Barcodes are used just about in everything that you happen to purchase. No matter what item you purchase, a barcode is present somewhere along the packaging. Many people know that the barcodes provide the store clerk information about the product, such as pricing. However, barcode technology is used in a more sophisticated way. It helps stores determine the trend in purchase patterns, what items are out of stock and what to be purchased on the next stock, how much of sales are conducted, inventory stock check and availability, and theft control.
The barcode technology is a system that provides a sufficient way to track all the purchases, returns and cancellations that takes place within a store. First, the code is generated through a process called GS1 identification keys. GS1 Company Prefixes are used by many businesses and it is the most preferred method to keep a "digital-eye" on your supply stock. Although there is no specific law in the United States for barcodes, most retailers and other distributors will require you to have one for inventory and sales tracking purposes.
What information does a barcode provide?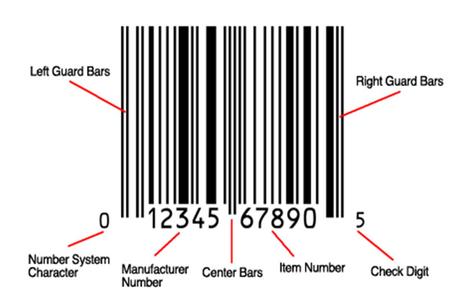 Barcode is that "Zebra-like" striped code with small numbers on the bottom of it. They normally contain a fraction of information, typically just to identify the specifications of the product on the store's back-end database. Majority of these types of codes are identified as UPC codes. Barcodes with 2D+, allows you to put whatever information you like to associate with that product.
How does the "laser-thingy" work?
Barcodes essentially are read by a barcode scanner, also known as the "laser-thingy". The scanners basically read the encrypted code to decipher and provide all information for that specific bar code in which is associated with a specific product, such as a bag of chips. If you are interested to learn about the mechanics of how the programming works, you can find a short reference here.
Don't really need the "laser-thingy"
Don't want to spend too much money on barcodes scanners? No problem. We understand that these things can be quite expensive. Luckily there are agencies such as Hire Laptops that offers products and applications for rental! Now you can get a bar scanner on the rental basis if you know that you will require such technology for only a period of time. On the brighter side, one of the greatest innovation in app implementation was the barcode scanners that are opt-in most smart devices such as a tablet or a smartphone. To learn more about Hire Laptops zebra barcode scanner hire. There are many apps out there in which can best suit your needs. Depending on the type of app you select, some offer options where you can synchronize all the purchases and inventory stocks into one centralized system, providing you essential information to help make better and wiser choices for inventory purchases, and financial decisions in the near future.