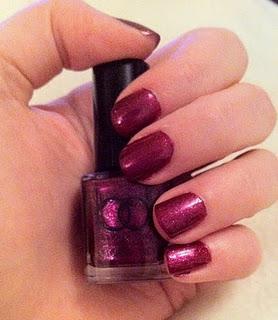 Barbara Daly Nail Polish
It has photographed darker than it is. It is a vibrant pink when it catches the light.
Ah Christmas, the ultimate excuse to add a bit of glitter to your wardrobe. I've decided to add a little bit of sparkle to my life by updating my nail polish. I opted for Barbara Daly's Nail Polish in Boulevard, which is a glittery, cerise pink color. This polish takes two to three coats to achieve an even finish but the finish this particular shade gives is amazing. I am absolutely in love with this shade, it looks pink and shimmery when it catches the light and a bit more purple otherwise.
More than anything, what I want in a polish is for it to be durable and chip resistant and this most definitely is. It gives a good two to three days wear without chips and  a couple more days after it has been touched up. The small brush makes it easy to apply and as it is priced at only £3.00 it is a bargain.
Whether you're looking for a little treat for yourself or a stocking filler for a loved one this is a must have. Barbara Daly nail polish is available at Tesco so be sure to pop one in your trolly when you go to get your turkey, it can be a reward for braving the supermarket at Christmas!