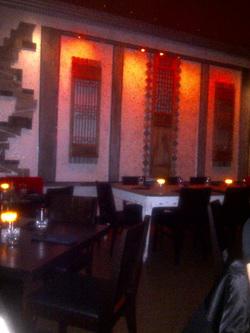 I think there's nothing like happy hour on Friday afternoon to end a busy week at the office.  Even if you don't drink, getting out with some friends after working hard, and just letting go a little, is a recipe for a successful start to the weekend.  Fortunately for me, I have lots of friends who think so too.  Even more fortunate is that my cousin, Eric, is the GM at a hot new restaurant/bar/lounge half a block from my office, Baotique at Covet Lounge, on E 55th Street just off Lexington Avenue.  Dreamed up by Andre Hnatyszak and Eric Milon (creator of Privé in Miami), here Chef Michael Bao offers up a modern Vietnamese menu that is out of this world.
After a tour of the fabulous space, upstairs a bar and restaurant, downstairs a dimly lit sexy lounge with VIP spaces, cushioned banquettes and another larger bar, we grabbed our drinks and headed to a table in the back.
And, yes, it helped to have connections.  My friends and I thought we were going for drinks...we wound up being served a meal fit for a queen. (We all had dinner plans but I know I only had room for vegetables later!)  We were treated to vegan and non-vegan delicacies galore ~ items like cuttlefish pad thai, shrimp spring rolls and duck foie gras were brought out for my friends, and the most decadent vegan food was sent to me. 
I sampled a spicy salad of pineapple, cucumber, thai chilis and reuram (Vietnamese mint) in a lime dressing, traditionally served with seasoned steak.  The chilis got me, but the mildness of the cucumber and the tang of the citrus all complimented each other perfectly.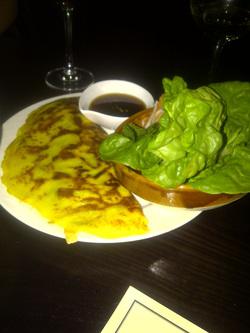 The seasonal mushroom rice-flour crepe with jicama, shredded carrots and lettuce leaves to wrap it in, served with a soy cham dipping sauce was light and full of flavor.
---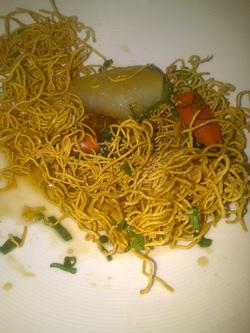 The highlight for me though (and for my non-vegan company) was an item that the Chef, Chase, made for us that's not found on the menu.  It was a dashi poached daikon (Japanese radish) steak with carrots, seaweed salad and rice noodles in a shoyu glaze.  It's hard to even describe this delicate dish, except to say that the daikon absorbed the flavors of the marinade, paired beautifully with its accompaniments and simply melted in my mouth (and what you see in the photo is what was left after we dug in!)  I would have asked for the recipe but I doubt I could ever prepare it that way on my own.  I know we all left wishing we could have stayed, and we'll surely be back!  For trendy, vegan fare and guaranteed fun, you need to check it out...but get there early or you'll surely be waiting in line.