I can't stand the phrase "budget wedding" – it makes my toes curl and my teeth itch. Brides and grooms: if you're planning a wedding for less than £5,000 we need to think of a new word to get across your creativity and independence!
"Budget wedding" is a dreary phrase, a wedding industry standard that everyone uses to describe less expensive weddings.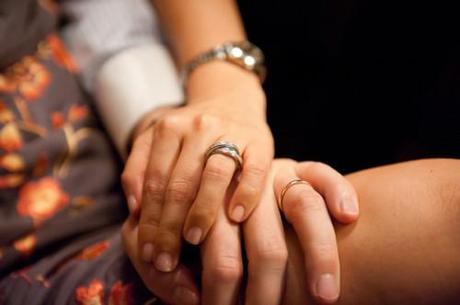 It sounds awful though doesn't it… we need a more upbeat phrase for everyone out there who is thinking creatively and spending less on their wedding day. Something that doesn't sound faintly disappointing, but inspiring and clever!
What's wrong with "budget weddings"?
It's become an industry phrase with too many negative connotations and I hate it!
Spending £5,000? Oooh, you're having a "budget wedding" then.
Making your own bunting? Ah, you're a "budget bride"…. well done.
Ick, ick and more ick. You're creative, intelligent and not caving to industry pressure. You're a "bright bride", planning your own wedding – I refuse to use the phrase "budget wedding" any more.
Spending less, creating more – on inspiring weddings!
I admire brides and grooms who can spend less on their wedding day, who don't cave in to the myriad pressures of wedding planning. It's brilliant that brides are finding wedding dresses on the high street, having parties at home and binning their gift lists.
After all, marriage is a serious commitment; weddings are a celebration. And it's the former that matters most.
Spend whatever you can afford on your wedding – fine by me!
I have no issues with anyone spending £2,000 or £20,000 on their wedding. Fine – if you've got it, spend it on what you like! Helicopter yourselves in, get a spare pair of Jimmy Choos for the evening… fine! But I'm as much a fan of a barefoot wedding (my secret dream for the blog: a gorgeous hippy wedding in a field!)
But whatever you spend, be proud of the plans you're making. Money doesn't make the world go round: LOVE makes the world go round.
No more "budget weddings" – let's get creative!
So what would be your definition of a "budget wedding"? Mine would be…
A wedding costing less than £5,000, incorporating DIY elements and alternative venue, dress, and reception ideas to save money.
… and I'd choose to call it
a creative wedding
a modern wedding

a blog-inspired wedding!

a 21st century wedding
a bijou wedding (cute!)
What do you think?
Photo Credit: Steve Currid, www.hipandfunky.co.uk