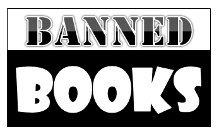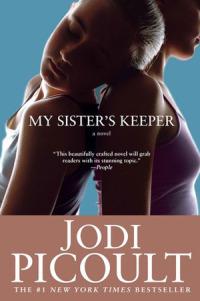 What's it all about?:
Anna is not sick, but she might as well be. By age thirteen, she has undergone countless surgeries, transfusions, and shots so that her older sister, Kate, can somehow fight the leukemia that has plagued her since childhood. The product of preimplantation genetic diagnosis, Anna was conceived as a bone marrow match for Kate — a life and a role that she has never challenged… until now. Like most teenagers, Anna is beginning to question who she truly is. But unlike most teenagers, she has always been defined in terms of her sister—and so Anna makes a decision that for most would be unthinkable, a decision that will tear her family apart and have perhaps fatal consequences for the sister she loves.
A provocative novel that raises some important ethical issues, My Sister's Keeper is the story of one family's struggle for survival at all human costs and a stunning parable for all time.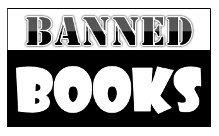 Logo designed by Luna's Little Library
Welcome to the last banned book of 2016! As always, we'll be looking at why the book was challenged, how/if things have changed since the book was originally published and our own opinions on the book.
But back to this month….
My Sister's Keeper by Jodi Picoult
First published: 2004
In the Top Ten most frequently challenged books in 2009 (source)
Reasons: homosexuality, offensive language, religious viewpoint, sexism, sexually explicit, unsuited to age group, violence
Do you understand or agree with any of the reasons for the book being challenged when it was originally published?
BETH: First of all, I can't believe this book is now over ten years old. This book is a huge favorite of mine, actually one of my all time favorite books and again, it's one of the more recent releases on our list so I don't believe opinions have changed much in the past decade or so. No I don't understand OR agree with ANY of the reasons for this book being challenged/banned when it was first published. Just look at the reasons, for goodness sake! I'll go into a couple of them here and a couple of them in the next question because I feel like I've got a lot to rant about.
Let's start with homosexuality. My memory must be failing me in this but I can't actually remember any homosexual activity in this book – are we talking about the same story? Please, if anyone can correct me on this, I'd be happy to be corrected but I don't recall anything homosexual at all! And, ever if there was, (I think you know what I'm going to say), is that a good reason for challenging a book? We should all be aware of all the different types of people in this world and saying that a person's sexuality is a reason for challenging a book is just all kinds of wrong.
Religious viewpoint. Again, struggling to remember when religion was forced down my throat in this novel which I finished a few hours ago. Because it wasn't. I've read a couple of "preachy" books in my time and this book definitely does not fall into that category. If anything, it makes you think about your own morality and make your own decisions.
CHRISSI: I'm laughing a little bit at Beth's passionate response to that question. Not because it's funny, but because she feels so strongly about it and rightly so. I actually was so confused when we found this book on the banned or challenged list. I guess it does call into question what is morally right, so that might have some impact on religion, but I definitely don't think religion was shoved down my throat. I am NOT a fan of books like that, so I don't think I would pick up the book if it was like that at all.
In my eyes, this book isn't an easy read but should it be challenged? No. It should be praised because it's making people think. It's pushing boundaries, it's raw and should be read in my opinion.
How about now?
BETH: See previous answer! So, the other reasons for challenging this book. Sexism. (??) I'm a bit of a feminist myself and nowhere in this book was I offended or thought that the role of women or men was being undermined. Sexually explicit? Where exactly was the explicit sexual scenes? I mean honestly…. are we reading the same book? Finally the last reason I'd like to talk about – violence. There is a very upsetting scene near the end of the novel but it's not something I would call violence. This book does deal with very controversial topics as a whole (and is the first book I bawled my eyes out to) but I really don't see this as a reason for challenging/banning it. I think it's a great idea for teenagers to be exposed to it and who knows, it may encourage interesting debate and start them thinking about their own morals and ethics.

CHRISSI: Definitely not. I think this book does push some boundaries but boundaries that should, in my opinion, be pushed and talked about. It doesn't hurt to question and think about our own morals and that's what this book does for me at least!
What did you think of this book?:
BETH: I think it's quite obvious from my over-long, rambling answers (sorry!) how passionate I feel about this book. It was the first Jodi Picoult book I read and remains one of my all time favorite novels. I was quite scared about re-reading it again as I hadn't read it in about ten years and I didn't want any of that old magic I felt back then to be spoiled. However, I needn't have worried. I loved it just as much and it affected me just as deeply as it did the first time.
CHRISSI: This is my second time reading this book as well and I found it just as addictive the second time around. I wouldn't say I felt as passionately about it as Beth does, but I'm inspired by her re-reading a favorite and still enjoying it. It makes me think about whether I should reread my favourite….
Would you recommend it?:
BETH: But of course!
CHRISSI: Of course!
BETH'S personal star rating (out of 5):

Join us again in 2017 when we will have a fresh batch of banned books to talk about – we can't wait to get started! Look out for our Banned Books 2017 Reveal Post coming soon. Happy New Year everyone!