Bangkok Airways is dubbed as "Asia's Boutique Airline." The title implies much prestige that we set our expectations high as we flew from Bangkok to Phuket and back. Long story short, the experience from the ground to the air was superb. Read more…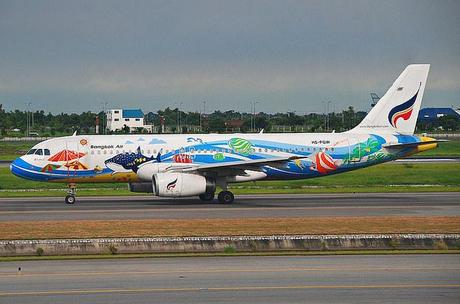 Photo credit: Wikimedia Commons
Airline/Operator Bangkok Airways (PG)
Route Bangkok-Suvarnabhumi, Thailand (BKK) to Phuket, Thailand (HKT) v/v
Flight Details PG 220 / Departure: 9:55 PM / Arrival: 11:20 PM / 417 miles (BKK-HKT)
PG 278 / Departure: 7:10 PM / Arrival: 8:35 PM / 417 miles (HKT-BKK)
Aircraft/Seats Airbus 320-200 / 144 Economy (both flights)
Price of Ticket 3180 THB (~4370 PHP) Economy roundtrip
Our trip began at Suvarnabhumi Airport (BKK), which is Bangkok Airways' main hub for both domestic and international flights. Although Don Mueang Airport (DMK) is more compact and straightforward, we prefer Suvarnabhumi more for its rail accessibility and 'wow factor.'
After doing our preflight rituals, we searched for the row checking in Bangkok Airways departures. We had no trouble doing so because they occupy one strategically-located check-in row for all their flights, aided by their self check-in kiosks for quicker processing.
For our journey to Phuket and back, we were accorded Premier Member benefits of FlyerBonus, Bangkok Airways' frequent flyer program. Their equivalent of an elite membership come with a slew of perks, and the first one we experienced was a separate check-in counter with a welcoming blue carpet.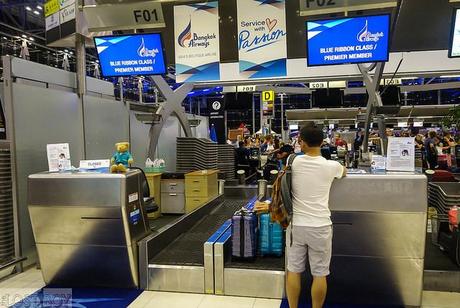 We were instantly processed as soon as we walked up the counter, since nobody was on queue. While our flight doesn't have a Blue Ribbon Class, the equivalent of business class, we were accommodated to the next best thing: first row seats. And adding heaps to our excitement and feeling of privilege were our bags tagged not as priority but as VIP. By the way, Premiere Members get generous 20kg checked baggage on top of the standard 20kg.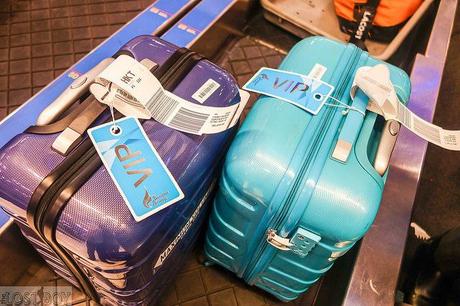 Past security, we were invited to Bangkok Airways' Blue Ribbon Club Lounge, which exclusively serves Premiere and Blue Ribbon Class passengers. Unlike other airline lounges, it seemed like a homey sitting room elegantly decorated and accented with European flair.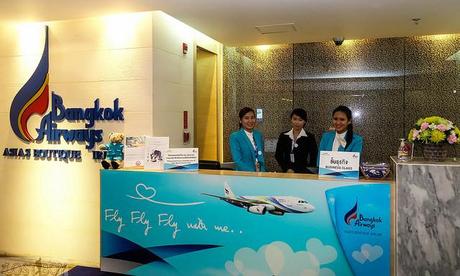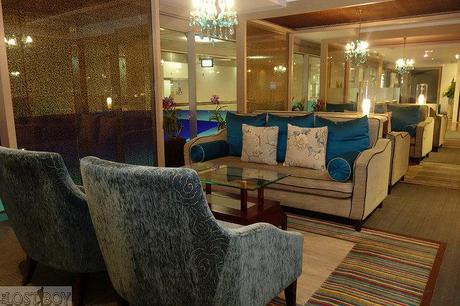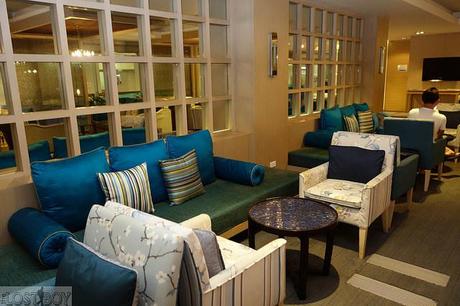 There was a selection of canapés, pastries, and local snacks, in addition to an assortment of beverages. We were also offered a plate of hot Hong Kong-style noodles with braised duck.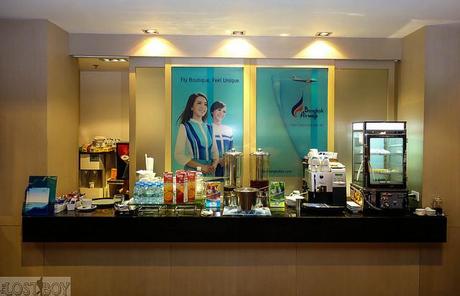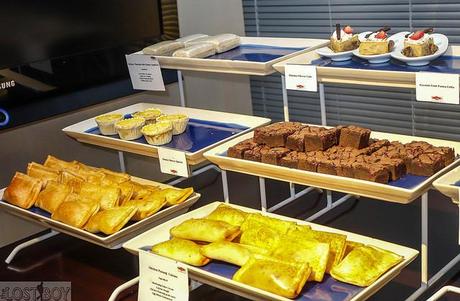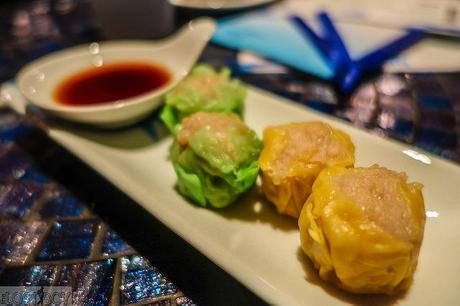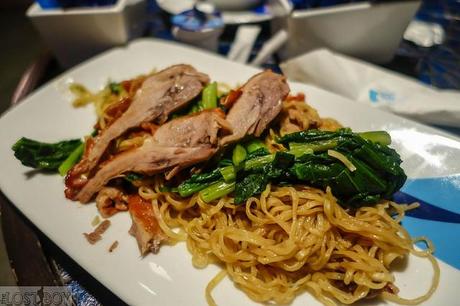 Before long, we were called by a lounge attendant to board, and so we did ahead of everybody with our Premiere Member status. Smiling crew, each doing the wai, welcomed us as we entered the plane. For we were among the first inside, the process was entirely smooth, and we didn't take too long to lug our bags into the overhead bins and get settled.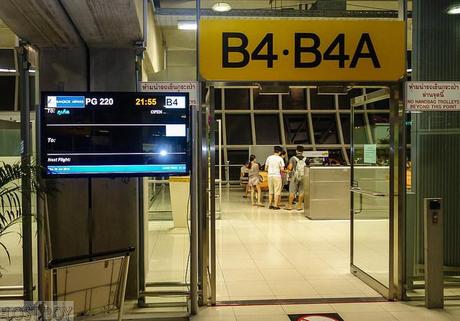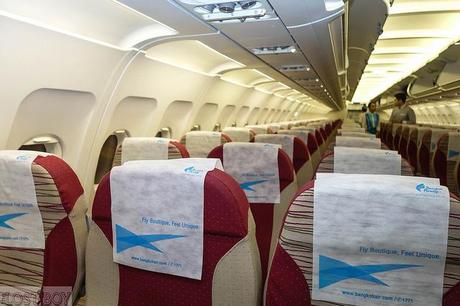 Our aircraft for flight PG 220 was an Airbus 320-200 with 144 seats arranged six abreast in an all-economy cabin. The seats offer a roomy 31" pitch—an inch more than low-cost carriers using the same aircraft. The cabin interiors still felt new, and the temperature was comfortable. What kept us entertained, meanwhile, were copies of their inflight magazine.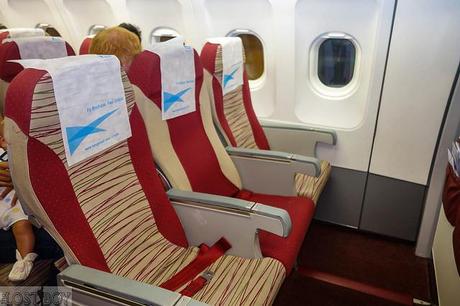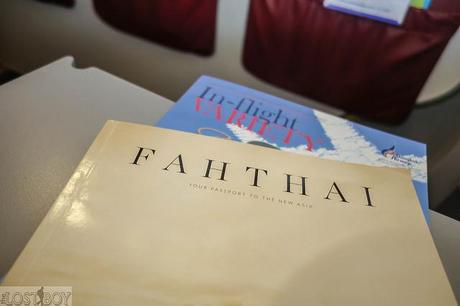 After we reached cruise altitude, one of the flight attendants carried a basket and offered refreshing towels—a nice touch only a few full-service carriers do nowadays.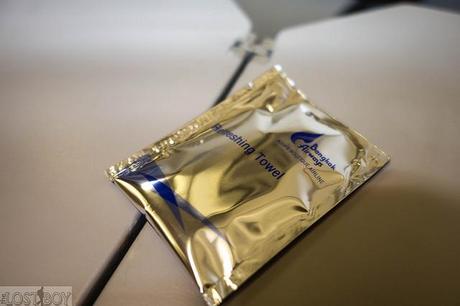 Flight attendants, still smiling, rolled over a cart with our meals consisting of a delicious pickle-like salad, two big slices of ham, hot bread with butter, and cake. Complementing the meal were water and a choice of juice. It was a pretty filling meal for a short hop, and it was very impressive that an airline still serves a meal for a domestic flight.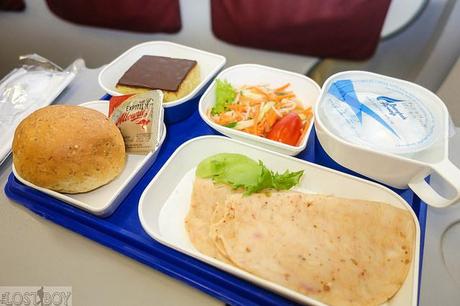 As the flight was scheduled to last only an hour and twenty minutes, it didn't take much time for us to start our descent and eventually to land. We arrived minutes ahead of schedule in Phuket, and being VIP, our bags emerged among the first ones at the carousel.
Going back, we opted to chance a flight back to Bangkok the night prior our ticketed departure instead of staying another night at an airport hotel. This, we pushed our luck at the Bangkok Airways Premiere Member counter to check if they can accommodate us to a night flight. As it turns out, the flight at 7:10 PM was full—understandably so, because people were starting to fly back to the city after a holiday weekend.
The friendly lady at the counter told us to wait 30 minutes for cancellations, but it wasn't even 15 minutes when she cheerily signaled that she has seats for us. Going further above and beyond, she assigned us front row seats. We later learned that Premiere Members get priority standby status—another benefit we thankfully were able to take advantage of.
Although Bangkok Airways doesn't have a dedicated lounge for Premiere and Blue Ribbon Class passengers in Phuket, we were still able to access their lounge for all passengers. One of the advantages the boutique airline prides itself upon is even economy class passengers get lounge access wherever there is one, like in Bangkok, Chiang Mai, Samui, and Siem Reap.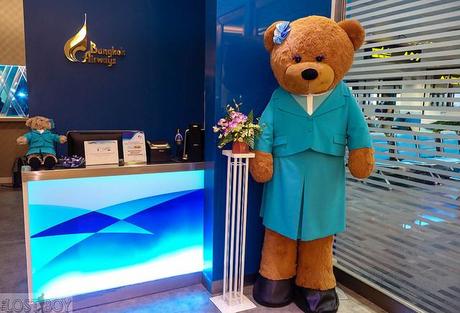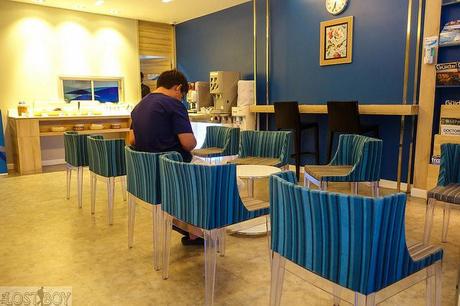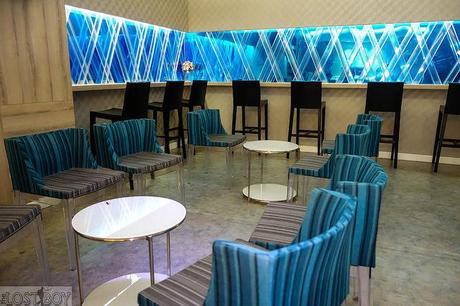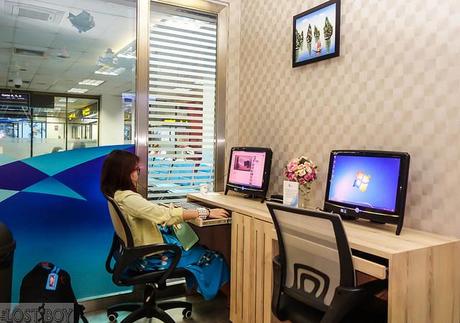 Their lounge is marginally smaller than the one in Bangkok, though it offers the same conveniences: snacks, beverages, comfortable seating, magazines, wi-fi, and workstations.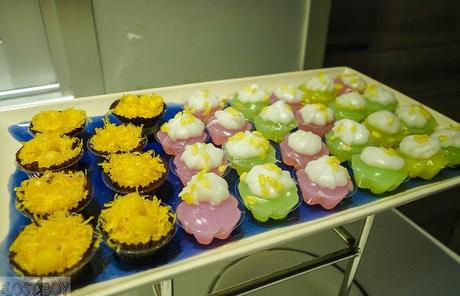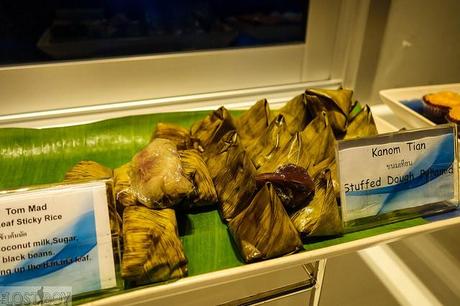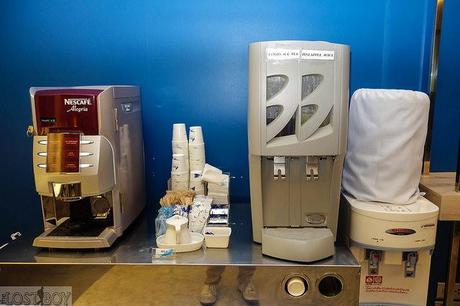 We were called to board our flight soon enough, and again, we took a separate queue for priority boarding. The flight back was pretty much the same, with charming flight attendants, a filling meal, an aircraft that felt new, and baggage delivered ahead of everyone.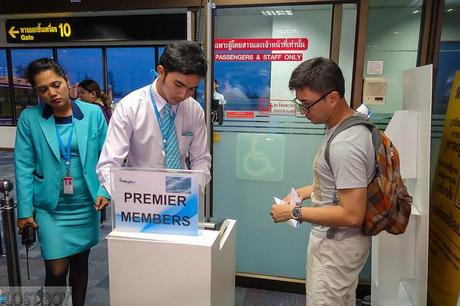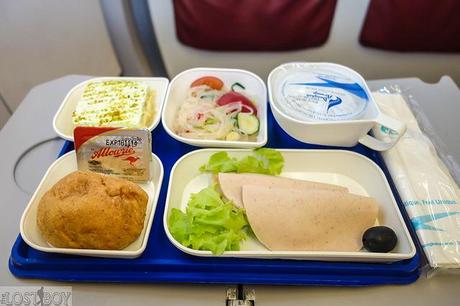 Truth be told, we were clueless why Bangkok Airways calls itself a boutique airline; it was a title we only heard through them. But taking flights with the airline enlightened us through a unique experience—from lounge access for all passengers to small touches like moist towels. SKYTRAX naming it the world's best regional airline this 2014 is clearly well-deserved.
Those coming in from the Philippines may take Bangkok Airways at Suvarnabhumi Airport (BKK), where major airlines fly to and from Manila. The airline flies to domestic destinations like Samui, Phuket, Krabi, and Chiang Mai, as well as international ones like Siem Reap. For bookings and more details, visit their website at www.bangkokair.com.