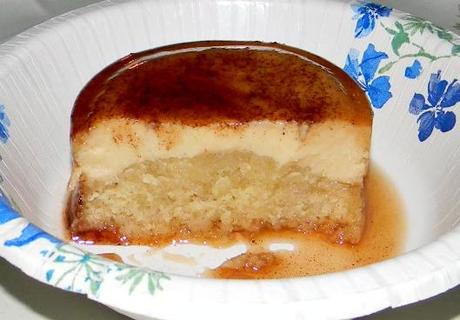 With 2 diabetics in the family and 8 with no dietary concerns, do I prepare desserts for the holiday meal as I would eat them or do I make desserts with no adjustments.
This year I am testing a few new dessert recipes, some with full fat and sugar and others that are not.
I picked bananas as our annual Christmas flavor and the first dessert I made was an impossible cake.
I have done a version of this technique a few years back at Thanksgiving, and everyone loved it.
Since I do not take food pics at my holiday table (I don't think my guests should be asked to wait while I snap a pic), I had nothing to post about so this time I took a few pics.
I am sure there are plenty of posts devoted to this two layer food science experiment. What exactly is an impossible cake? It's a flan on top of a layer of cake all baked together in one pan. Like I said, a science experiment. I am not sure who developed the first one, or where it's origins are, but my guess is because of the flan, it's roots took hold somewhere in South America.
Meet my first test.......Bananas Foster Impossible Cake
Although I have never eaten this iconic New Orleans dessert, I have always been enamored with banana anythings.....bread, muffins, ice cream, smoothies.
Bananas are not a great fruit for diabetics (they recommend eating them hard not ripe, but would you?) and most banana dishes require the bananas to be as ripe as can be and one step before the garbage pail.
I am, therefore, using a banana liquor, which we know that as it bakes, the alcohol will burn off, but you could also use a banana extract (but only a teaspoon will do, please). I happen to have a nice little bottle banana brandy.
This recipe could not be any easier. You don't need any special equipment, a bowl and a spoon will do.
You could make these without the syrup and they would still be just as good. A dollop of lightly sweetened whipped cream or Cool-Whip would work well, as would a scoop of frozen yogurt or a low sugar ice cream.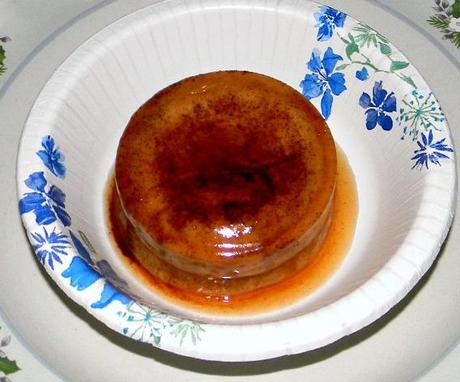 Bananas Foster Impossible Cake
makes 6-8 servings or 8 ramekins
* 4 eggs (room temperature)
* 1 can sweetened condensed milk
* 1 can evaporated milk
* 1 tablespoon banana liqueur or 1 teaspoon banana extract
* 4 ounces cream cheese (room temperature)
* 1 cup banana cake mix
* 1/2 cup vegetable oil
* 1/2 cup milk
* 1 egg
* 1/4 cup brown sugar (lite or dark)
* 1/2 teaspoon cinnamon
* 1/4 cup banana liqueur
* 1/4 cup dark or spiced rum
Preheat oven to 350°.
1. Mix eggs, milk, vanilla and cream cheese until smooth.
2. In a separate bowl mix cake mix, oil, milk and egg until well blended.
3. In a small saucepan, combine brown sugar, cinnamon, liqueur and rum, and simmer until it is thick and syrupy.
4. Butter or spray 8 ramekins or a bundt cake pan.
5. Evenly spoon about a tablespoon of syrup in each ramekin or spoon evenly into the bottom of a bundt pan.
6. Pour the flan mix over the syrup. Pour the cake mix over that (it will sink to the bottom but that's OK).
7. Place the pan or ramekins into a baking pan and fill with boiling water. Cover with foil and bake 25 minutes for ramekins, 1 hour for bundt pan.
8. Remove from the oven and let it cool. Refrigerate for at least two hours before serving. The Foster's sauce will flow over the cake.
9. To serve, flip the cake over into a platter or dish just like you would a simple flan.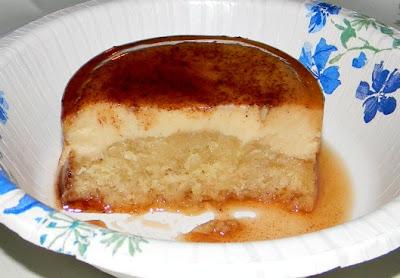 This was a wonderful treat. Just the right size for after a Holiday meal.
I will continue to play around with different flavor combinations but I can see an apple impossible cake in our future.
Stay tuned for dessert #2.
I will give you a hint......it cooks to a pillowy light and airy decadent but not unhealthy treat.