Forget saving all those over ripe bananas for banana bread. Boy have I got a new gadget for you.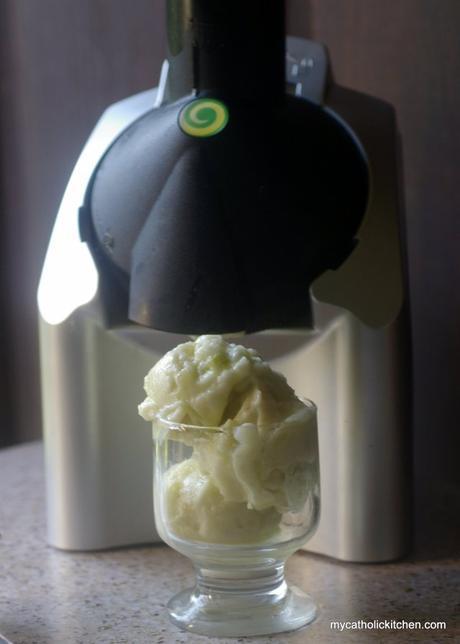 What if I told you that there is a gadget that will take frozen bananas and make them like soft serve ice cream? I was sent a Yonanas for review. I normally dont do reviews, but this one caught my attention.
I love Bananas and thought this would be a great option for the people who are lactose intolerant. All you have to do is freeze the bananas run it through the Yonanas machine and there you have a creamy treat. It is honestly that easy.
There is no sharp parts so even the little ones could do it.  It is fruit, haven't we been trying to get them to eat fruit?
This is also a great way to use up all those bananas that are a little too ripe. I usually save them for banana bread. This is way easier to make than banana bread!
The Hubster loved this and couldn't wait to try it when I was taking the pictures. Infact, I am almost sure he has polished it off by now.
Monkey Girl even loved it and she usually turns her nose up at most things. Went back for seconds and even had a try at making her own concoction.
I loved it to!  When I first made it, I loved that it tasted like soft serve.  They really meant it when they said you should allow it to defrost for a few minutes before using it. It made a big difference in the creaminess and how well it mixed the fruit.
The real test was when I took it to work. I had some of my coworkers help try it out. They were all impressed with it. They were kind of a bit upset that I took it home to get a photo of the machine for my post. I promised I would return it when I was finished.
We tried a lot of different fruits with this. I loved adding frozen cherries, blueberries, even strawberries. They all were yummy.
I have to say my favorite was the Lemondrop Melon Yonanas.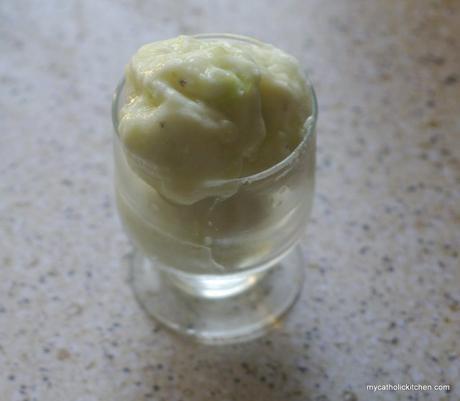 Print Recipe
Lemondrop Melon Yonanas
Ingredients:
2 frozen ripe bananas
1/2 cup diced Lemondrop melon
Directions:
Slightly thaw your frozen fruit before you put it in the machine.
Insert 1 frozen banana
Insert Melon chunks
Insert second banana
Enjoy!
Looking to get your own Yonanas? Check out their website Yonanas
Also check out their facebook, twitter, instagram and pinterest pages for more delicious ideas.
Peace be with you,
Veronica