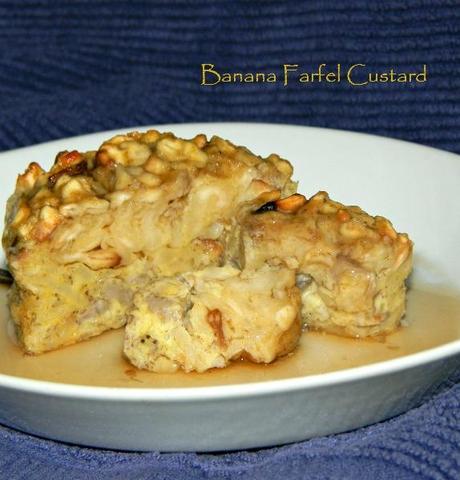 With Passover very close to Easter this year, I wanted to create a diabetic-friendly Jewish custard that follows the laws of Passover. Can be chilled for a fast breakfast or warm as a dessert.
I found this site on how to eat diabetic dishes while following the rules of the Jewish holidays. I think the foods eaten during Passover are more well known than the other religious holidays due to the large section of matzoh that appears in the early spring.
Matzoh is a problem in two ways. Religion dictates a certain amount of matzoh be consumed during the day, mostly at two different times. I am not truly aware of the exact amount so I will give the carb counts for this dish at the end.
I also found out that Equal, Spenda and NutriSweet are not Kosher so make sure you check for Kosher sweeteners. You can download this extremely informative booklet on eating diabetic-friendly Jewish foods for passover and how to eat eat the correct amounts with your medications. 
This dish contains Matzo farfel, which is just matzo boards that are broken into little pieces. I had a hell of a time finding the already prepared farfel but if you can't find it, place a few boards in a plastic bag and crush them with either a rolling pin or a mallet. Better yet, use the whole wheat matzo if available.
What I loved about the final dish was not only did it have a really good banana flavor, the top was crunchy and the interior was a bread pudding. A good way to end a dinner and an easy breakfast. Microwave on high for two minutes and eat with a tablespoon of sugar free syrup. If you bake these in Texas Muffin Cups they are easily transportable for work.
I will test different fruit combinations like blueberry or pineapple with coconut. Yummy.
Banana-Farfel Custard
makes 2 servings
* 1 medium banana (about 6oz), peeled and cut in half
* 2 eggs
* 1/2 cup skim milk
* 1/2 teaspoon Truvia
* 1/4 teaspoon ground cinnamon
* 1 ounce (about 1/2 cup) matzo farfel
* 2 teaspoons pancake syrup or pomegranate molasses
Preheat oven to 350°. Spray two 10oz custard cups with nonstick cooking spray; set aside.
In blender combine 1 banana half with the eggs, milk, sweetener and cinnamon and process until smooth, about 1 minute; stir in matzo farfel.
Dice remaining banana half; add to farfel mixture and stir to combine. Pour half of mixture into each prepared custard cup; place cups on a baking sheet and bake 20 minutes (until a knife, inserted into center of custard, comes out clean). Serve each portion with 1 teaspoon syrup.