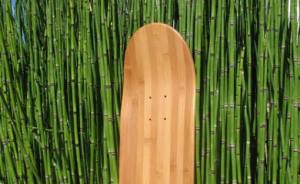 BambooSK8 is an ecologically-based skateboard brand and manufacturer of high quality skateboards made from sustainable bamboo from managed forests. They are social entrepreneurs who believe that giving back to their communities is as equally important as profits and passionately hope to inspire others to take actionable steps towards preserving our natural environment.
Prior to 2007, other skateboard manufacturer had tried using bamboo in their products, but none had ever really been very successful at it and the industry as a whole just had no desire to pursue a sustainable resource that would help the environment out, especially since because the industry's bread and butter was banked on using Canadian maple products! In 2007 they started the initial building and testing of bamboo hybrid products and some 100% bamboo models.  In 2008, they decided to go completely eco-green with the 100% bamboo product.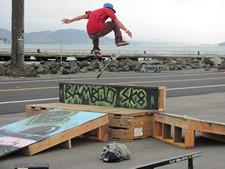 In 2010 they supported Tony Hawk's Standup for Skateparks charity event by donating several long boards and short decks, which earned maximum bids for charity. In 2011 they donated $10 per deck to the Red Cross to help out with the devastation in Japan after the tsunami and have continued supporting charities all across the country.
This weekend  they are fortunate enough to have Matt Cartledge and Ryan Strader representing BambooSK8 this weekend against two hundred of the best amateur skateboarders in the world at the Tampa Am in Tampa, Florida.  It is the company's goal that strong results in this competition will be the catalyst to bringing the brand to the forefront of the skateboard industry as more skaters will recognize the extra POP and the incredible strength that bamboo skate decks provide for their skaters and fans of the eco-minded brand.
Matt and Ryan who have similar styles are known for being down to skate any terrain whether it is ledges, manual pads, big gaps, handrails, weird obstacles, you name it and they will both skate it.  Recently Ryan just landed a frontside 270 to switch frontslide boardslive shuv; a monster of a trick.  Matt's style has been compared to Sierra Fellers while Ryan's has been compared to Chris Roberts.  Ryan Strader is from Austin, Texas and, in addition to BambooSK8, is sponsored by Capital Skate Park, DVS, Good Life wheels, The Shop in Oak Cliff, Silver Trucks, FKD Bearings.  The 18-year-old Matt Cartledge is also sponsored by Bunger Sayville Skate Shop, and is from Wantagh, New York.
Thanks to the Chelsea  for sharing this story and we wish  Matt and Ryan all the luck in the competition this weekend. For more information about BambooSK8 please check out their website [bamboosk8.com] or contact: [email protected]
[source: bamboosk8.com]