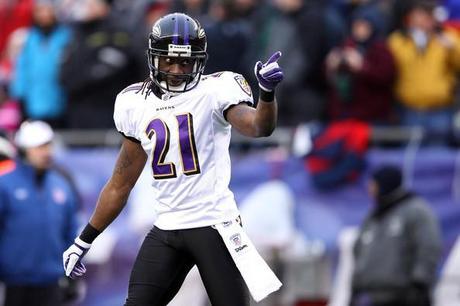 Photo: Getty Images -- Elsa
- Adam Parker
A quarterback-driven league, indeed.
They captain the offense and they're usually at the top of the list for opposing defenses' gameplans.
That being said, it's of vital importance in today's NFL to have players on your roster who can combat all of the prolific passing attacks across the league.
Pass rushers are a big need, but for most teams, it comes down to cornerbacks -- players who can stick with the four and five-wide receiver sets so many of the league's best teams utilize. In the state of today's NFL, it seems like you can never have enough quality cover guys.
The Baltimore Ravens are thinking the exact same thing -- the team has just
locked up cornerback Lardarius Webb to a whopping six-year deal
.
According to reports, Webb agreed to a five-year, $50 million extenson with a $10 million signing bonus. The extension will begin after the 2012 season, which is the last year of Webb's previous contract with the Ravens.
Webb has now totally completed the rags to riches story.
Originally drafted by the Ravens to be nothing more than a nickel corner and back-up, a series of key defensive injuries forced him into a starting job last season. To Baltimore's surprise -- Webb excelled. He quickly went from nobody to leading the team in interceptions and racking up 68 tackles.
One could even go as far as to say that he was one of the top corners in the entire AFC.
And now, he's going to be paid like one.
"Lardarius is an important player for the Ravens, and we're happy he'll be with us for a long time,"
general manager Ozzie Newsome said in a statement.
The highlight of Webbs' breakout season occurred in the playoffs against the Houston Texans. During the game, he managed to snag two interceptions off rookie quarterback T.J. Yates, eventually pushing the Ravens to a win.
Does the money seem like a bit much for a guy who's only started on the outside for one full season?
Absolutely.
But with the way the game has evolved in recent years, cornerbacks and pass rushers are likely to be paid like kings because of how important they are in the makeup of today's defenses. It may be Webb today, but tomorrow it could be a young pass rusher that was pushed into a starting job.
Hopefully, for the Ravens' sake, 'His Majesty' Webb can continue earning that contract as he moves forward in his career.
Be sure to follow Beard And Stache on Twitter 
@BeardAndStache
, 
and also Adam 
@Adam_Parker43
, Like our Facebook page 
HERE
!