We just got back from a wonderful vacation.  My family took a 7-night Baltic Cruise on Holland America Cruise Line.  We sailed on the Ryndam.  I have been wanting to take a Baltic Cruise since we moved to Germany.  I am glad we finally were able to go.  This was our second Holland America cruise and mine and my husband's 4th cruise, and my son's 2nd cruise.  We sailed from Rotterdam, Netherlands.  Before our cruise we spent one night in Delft, Netherlands, which is about 20 minutes from Rotterdam.  Delft is known for their pottery and we actually were given four Delft pottery coasters for free as a gift from Holland America since we were past guests.
We were blessed with a deluxe suite on this cruise.  We really lucked out as we were upgraded about a week before our cruise.  We are past guests and did pay for a balcony suite (which on this ship was just a balcony).  So when we were upgraded to a deluxe suite we felt very blessed.  Our room was beautiful and spacious.  I will do a post just on our room with pictures to share.  If you ever get a chance to stay in a suite on a cruise ship, I highly recommend it.  Not only was our room twice the size of the balcony cabins but we had special privileges such as free laundry and dry cleaning throughout our cruise - which I highly recommend, especially if you are traveling with your child(ren).  We were also able to have special breakfast in the specialty restaurant, priority boarding on and off the ship, a nice lounge just for suite guests, and more.  Last year we stayed in a penthouse suite on Norwegian Cruise Lines which was very nice as well.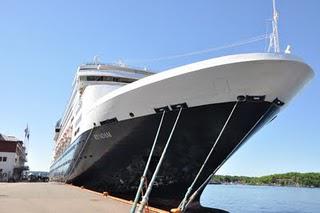 Holland America, the Ryndam
I will write about each country we visited in a separate post.  As an overview we visited Rotterdam,  Netherlands (which is a beautiful city); Helsingborg, Sweden; Copenhagen, Denmark (where we spent the night); Skagen, Denmark; and Oslo, Norway.  My almost two year old son has now been to 17 countries. He is becoming a world traveler and picking up new words from different languages all the time.