This was just meant to be a Red Velvet cake, but it came out dense, fudge-y and very Brownie like – so it's a Brownie cake. To be honest it's not even particularly red (damn cheap food colouring!) so you could leave the 'red' part out and just make a delicious brownie cake…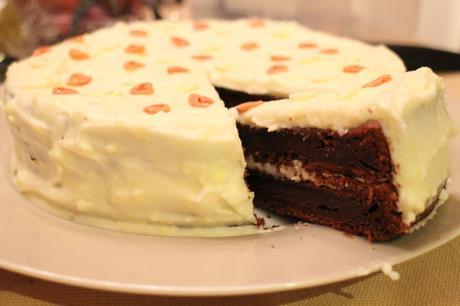 I found this recipe particularly easy to make up – no idea why as I'm usually a bit more cautious with baked goods. At dinner time I can happily throw in this, add a bit of that, and feel confident knowing that it won't be (too) disgusting. To be honest baking scares me in that it is more of an exact science. But I managed this, it worked well, and whilst I won't use red food colouring in it again, it makes a damn delicious cake. The frosting was pretty yummy too – fresher than normal buttercream, but still sweet and indulgent. The sugar hearts were my nod to Valentine's – there's absolutely no need for them, but even I'm impressed with how pretty my
Valentine's cake
looks!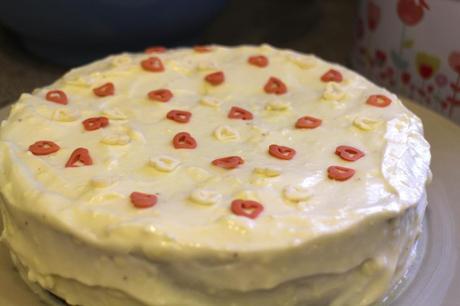 Ingredients
150g very soft butter
150g sugar
1 tsp vanilla extract (I used Nielsen-Massey)
3 large eggs
50ml yoghurt
Red food colouring (if you want a red cake!)
150g self-raising flour (I used Allinson Flour)
75g cocoa powder
A splash of milk
For the icing: 100g very soft butter, 200g cream cheese, 500g icing sugar, and a drop of vanilla extract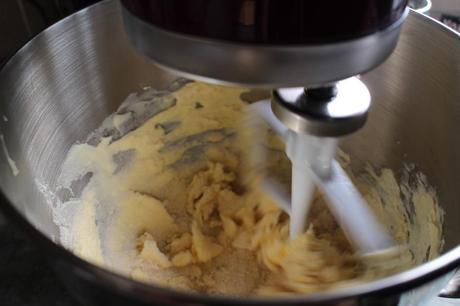 Beat the butter until light, then add the sugar and vanilla extract. Keep beating until light and fluffy – I find beating the butter on it's own first makes this a lot easier. Beat in the eggs a bit at a time.
Mix the food colouring with the yoghurt, and beat this into the cake mixture. Stir the flour in gradually, followed by the cocoa powder.
Pour into two (lined and greased – thanks W!) deep sandwich tins and bake at 175C for about 30 mins, or until a skewer comes out clean.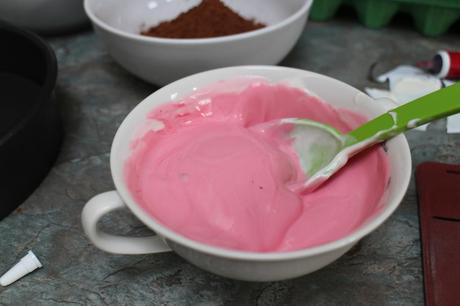 Whilst the cake is cooling, make the icing. Beat the butter until light, then beat in the cream cheese. It's really, really, really important to beat the butter first – I didn't, and hence had little buttery lumps throughout the icing. Gradually beat in the icing sugar, and then the vanilla extract. Keep beating until frosting-like…then use it to sandwich your cooled cakes together, and decorate the top and sides.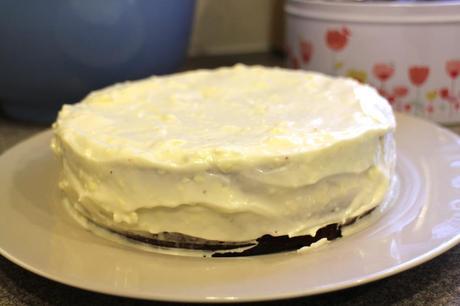 Add heart-shaped sprinkles if you wish! Then cut a big slab, make a cuppa, snuggle under a blanket, grab a book and enjoy. And remember, for a post-Valentine's treat, there's the Hungry House's promotion currently running, whereby any takeaway order placed on hungryhouse of £15 or more will bag you a movie or TV show from CinemaNow. Me and W treated ourselves last friday (thanks Hungry House!) to a delicious curry followed by The Sex Tape – a hilarious and light-hearted film.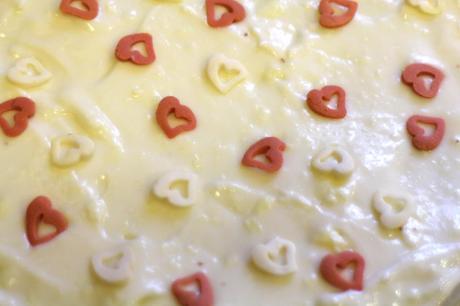 Disclaimer: I was provided with some baking goods as part of the Baking Mad campaign, which I genuinely used in this recipe. All opinions are my own, as always, and no money exchanged hands. 
Have your ever made a Red Velvet cake? Baked anything recently? I'm on the lookout for healthier bakes so send me links!