Located in the heart of the Old Town in the valley of the river Tchuruk-su. Founder Haji Giray dynasty in the mid-15th century. moved the capital city of Crimea (Old Crimea) in Kyrk-Er (Chufut-kale), seeking independence from the Golden Horde. Start of construction of the palace and the capital put his son Mengli Giray I (1467 – 1515). He was brought up cafe Genoese, mastered and the European and Asian culture. In a military alliance with Moscow kingdom influence extends to the north and east of the Crimea. Kyrym Giray Khan (1717-1769), an admirer and connoisseur of French, founded the style of "Crimean rococo."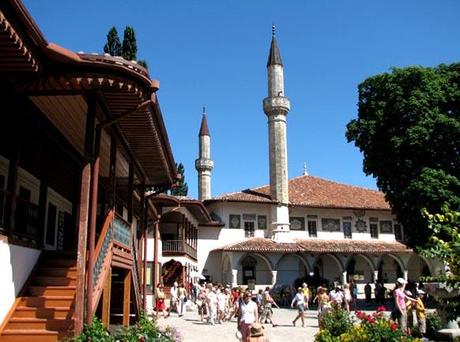 The largest monument of Islamic architecture in the Crimea. The place chosen for the palace is perfect: the valley between the Rocky Mountains is well protected from the winds, and the river Tchuruk-Su in past years gave enough water to turn the palace into a blooming oasis Khan. And now there everywhere roses bloom, and in the shady nooks yards so cool that it is not believed the hot summer afternoon.
If you want to go to Khan's chambers, to learn about the life in the harem, admire the interiors in the Muslim style and see the famous Fountain of Bakhchisarai – welcome on the tour. (price 40grn). At least once in your life is worth it!
Speaking of the fountain – the palace several fountains, we fell in love with a simple and babbling in one of the courtyards – very well be there to sit and rest in the middle of tour, there will gladly missed several tour groups and, then continued. As for the famous Fountain of Bakhchisarai – the fountain of tears – it is original, and more romantic than beautiful. Small, ugly and almost dried up, but it was he who gathers crowds. Blame charisma Pushkin, who dedicated this little harem fountain whole poem. Fountain mourns one of the wives of the Crimean Khan, and that from this – the truth, and that – a legend, not judge us. But very romantic and sad.
Until now , every morning, at the fountain of tears lay two roses of Khan's garden.
Studying the architecture of the palace Russian architects 19th and 20th centuries, especially PN Krasnov, distributed and developed for this style villas and a hotel building, as well as mosques and public buildings resorts. But the palace and his "Fountain of Tears" became world known only by Alexander Pushkin, visited the Crimea in 1820.
Now it is a historical and architectural museum-reserve. Archaeological exhibition introduces the testimony of life in ancient times, since the glaciation of Europe. Ethnographic collection is dedicated to culture, life, crafts and folk art of the Crimean Tatars.
How to het there:
From Simferopol- by Bus  or by car – from Bahchisaray Train station gong bus # 2
http://www.hansaray.org.ua/e_index.html