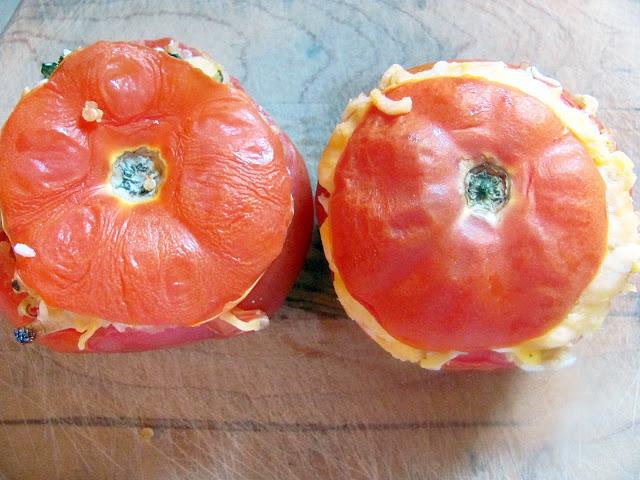 I think I'm becoming a tomato person. I never hated tomatoes or anything, but they were never at the top of my favorite foods list.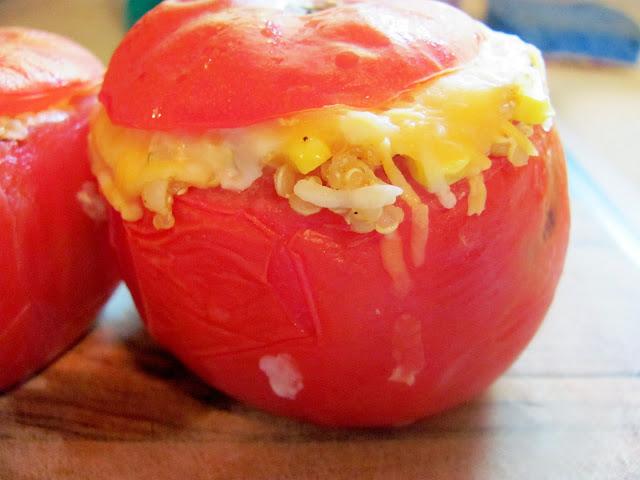 It all started in January. For some crazy reason, my mom and I decided that we just had to try quinoa. It was just one of those days where trying something new seemed imperative. I guess you could call it an impulse buy, because once we got it home, we had no idea what to do with it.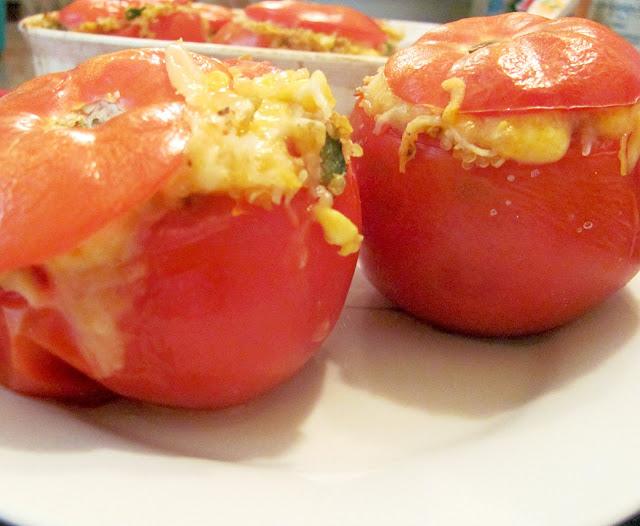 For a while, we both halfheartedly looked online for recipes, but eventually it became that forgotten grain in the back of the pantry. That is, until a few weeks ago. When my mom and I got home from a busy day, we discovered that our fridge and pantry were practically empty. This isn't an exaggeration like the whole 'I have nothing to wear!' We literally had the quinoa and a few vegetables and cheese and that was it.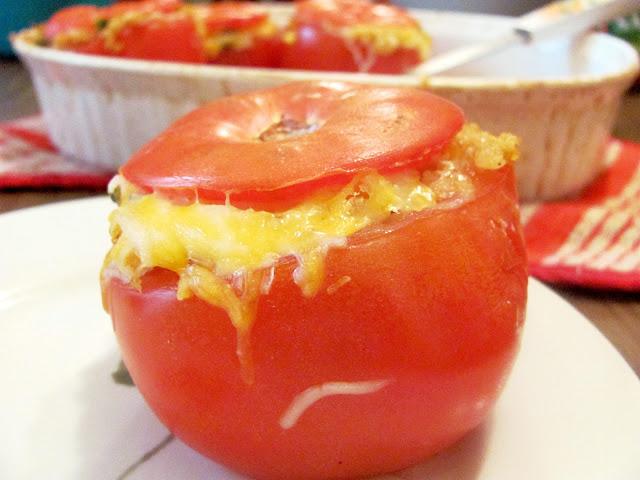 You could say that we were using or resources and being creative, but essentially this recipe is the result of sheer stubbornness. We were too stubborn to go the the grocery store, so we decided to make a meal out of what we had. So, ladies and gentlemen, I present to you the result, stuffed tomatoes with quinoa. Try to not become a tomato person after making this. I dare you.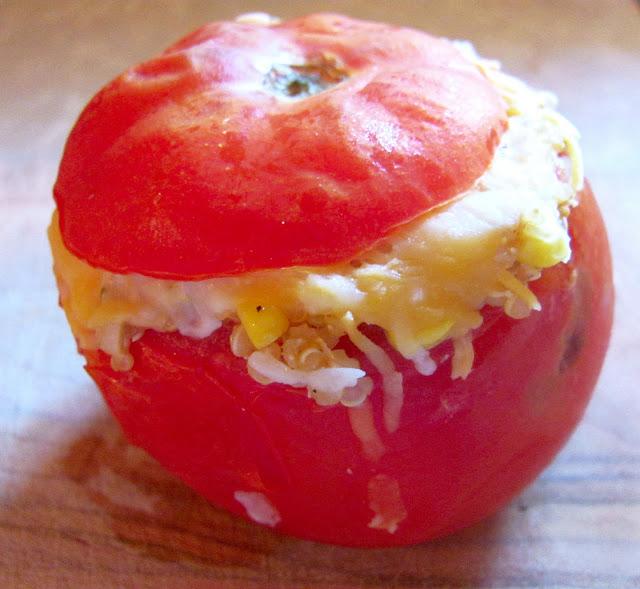 Baked Tomatoes with Quinoa, Green Chiles, and Corn
From Cooking Light
Ingredients:
2 

poblano chiles

2 cups

 

fresh corn kernels (about 4 ears)

1 cup

 

chopped onion

 

1 tablespoon

 

chopped fresh oregano

1 tablespoon

 

olive oil

1 tablespoon

 

fresh lime juice

1 teaspoon

 

salt, divided

3/4 teaspoon

 

ground cumin

1/4 teaspoon

 

freshly ground black pepper

6 

large ripe tomatoes (about 4 pounds)

1 cup

 

uncooked quinoa

1/4 cup

 

water

4 ounces

 

colby-Jack cheese, shredded (about 1 cup packed)
Directions:
 Preheat broiler to high.
Cut the chiles in half lengthwise; discard seeds. Place chile halves, skin side up, on a foil-lined baking sheet. Broil until blackened. Place in a paper bag; close tightly. Let stand 10 minutes. Peel chiles. Coarsely chop chiles; place in a bowl. Add corn and onion to pan; broil 10 minutes, stirring twice. Add corn mixture to chopped chiles; stir in oregano, oil, lime juice, 1/4 teaspoon salt, cumin, and black pepper.
Cut tops off tomatoes; set aside. Carefully scoop out tomato pulp, leaving shells intact. Drain pulp through a sieve over a bowl, pressing with the back of a spoon to extract liquid. Reserve 1 1/4 cups liquid, and discard remaining liquid. Sprinkle tomatoes with 1/2 teaspoon salt. Invert tomatoes on a wire rack; let stand 30 minutes. Dry insides of tomatoes with a paper towel.
Place quinoa in a fine sieve, and place sieve in a large bowl. Cover quinoa with water. Using your hands, rub the grains together for 30 seconds; rinse and drain. Repeat the procedure twice. Drain well. Combine reserved tomato liquid, quinoa, 1/4 cup water, and the remaining salt in a medium saucepan; bring to a boil. Cover, reduce heat, and simmer for 15 minutes or until liquid is absorbed. Remove from heat; fluff with a fork. Add quinoa mixture to corn mixture; toss well.
Preheat oven to 350°.
Spoon about 3/4 cup corn mixture into each tomato. Divide cheese evenly among tomatoes. Place tomatoes and tops, if desired, on a jelly-roll pan. Bake at 350° for 15 minutes. Remove from oven. Preheat broiler. Broil the tomatoes 1 1/2 minutes or until cheese melts. Place tomato tops on tomatoes, if desired.