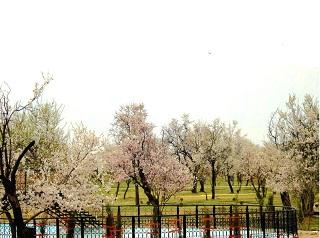 Nature could only look beauty if it blossoms it's like an etiquette of nature a delicate demonstration of change of season as the times calls off the season of dryness and blessed the land and its fraction a flowers which speaks a language of beauty and tends to beautify an environment within its atmosphere.
After the end of season of rainfall it's a call for spring starts with horizon of embryo of flower and enchants a world with its essence and beauty.
Although a world would cover itself within a fold of flower but a Kashmir in specific has a range of bloom with an end of a cold an frosty seasons an onset of spring is welcomed with a festival and carnival of music.
Badamwari a hub of a flourish is a delight and wonders till the period of 70s Srinagar people illustrate the period in a life size style and a people would horde to an Almond garden where folk artist would take the stage for couple of days.
After a month of freezing condition a visit to a Badamwari was anticipated to a great extent as said by Muhammad Afzal, 73 year old resident of Srinagar city.
For a countless year it was deserted by a militant levy Badamwari remained ignored as it was a capital of Jammu and Kashmir during summer impulsive situation exerted tremendous loss to its existence but could not terminate a gesture of nature because spring belongs to Badamwari.
As the senior government officer said Badamwari has restore its glory back much by the courtesy of bank of Jammu and Kashmir  now it is as beautiful as before and springs is known better only by Badamwari much cause of its beauty and everlasting bloom.
Tourist has started coming in numbers exploring the beauty of Badamwari during spring season capturing the instant on camera of flowery seduction.
Bird has start to chirp adding a glory to a dawn of morning which engulfs the beauty yellow mustard flowers blotch the landscape, orioles and starlings has started doing a feeding job.
Although you can come to explore the place or a heaven on earth anytime you feel like coming but spring adds a spice to your visit
.
Summer allows a fishermen and picnic lovers to explore the beauty of Dal Lake.
But it's goodbye now
Most recent throng of nomadic birds are seen graining away prior to lengthy voyage they should keep their nutrition treasure before they fly back to their own town for summer.
Valley introduced over 700,000 migratory birds this year but it's a goodbye now as said by an official of the state wildlife protection department.
Millions of tourist paid their visit what's more 500,000 devote board for Amarnath in 2011 and in 2012 it reached 1.3 million and 750,000 for holy pilgrims of Amarnath.
As said this year is also expected to a huge tourist terminal though minor turmoil had happen but it is expected to improve soon and the people would again come to witness the glory of spring at Kashmir.