Today's post is yet another recipe from my mom's vast recipe collection.This is something similar to padhir peni-a layered poori kind of dish dipped in sugar syrup.Here my mom uses almond flour along with maida to make pooris.Now I do not know the origin of this recipe,my mom got this from her colleague friend around 20 years back.Now I am digging those collections and all credit goes to this blog.My mom also encourages me by giving lots of recipes from her collection :)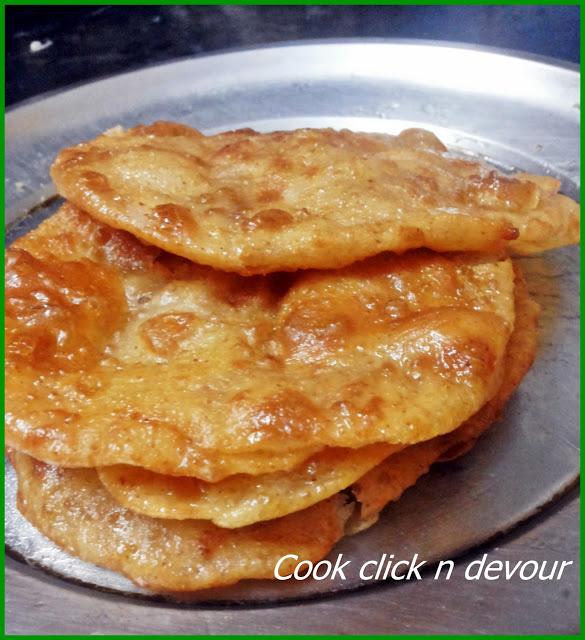 The list of ingredients and method may look a bit long and consumes a little more of time,rest assured it is such a tasty treat,not very sweet with a subtle flavor of almonds.Yesterday I was assistant to my mom in the kitchen and we made it together and it was fun.I warn you though this is a high calorie recipe,moderation is key but it was highly impossible for us :) I am giving the recipe in steps
Preparation of dough
Ingredients:
1 cup all purpose flour
1/2 cup whole almonds
1/4 cup sugar
A pinch of salt
2 tablespoons ghee
Method:
1.Grind almonds without soaking to powder as fine as possible.
2.Mix all the ingredients and combine with your fingertips.Once the mixture resembles bread crumbs add water slowly to form soft dough.The dough should be like poori dough.Keep aside for 10 minutes.
Prepartion of almond pooris with layers
Ingredients:
2 table spoons rice flour
1 teaspoon ghee
Prepared dough.
Method:
1.Divide the dough into four equal sized portions.Roll in into very thin chapathis,dust with flour if needed.
2.In a small mixing bowl mix rice flour and ghee and make a uniform paste.You made add a teaspoon of sugar to this paste if needed.
3,Keep one chapathi on the counter,apply this paste to it and keep the next chapathi.Repeat this for the next chapathis.
.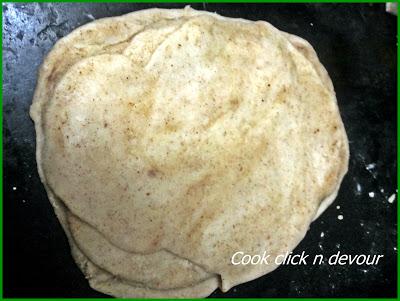 4.Roll the chapathis with out applying pressure and cut into small ribbons.Now roll those ribbons into small pooris carefully so that the layers visible.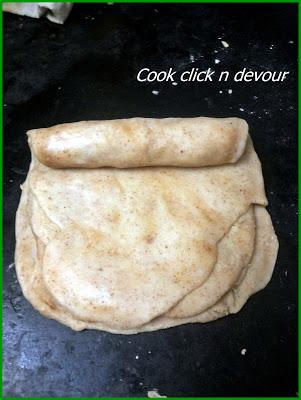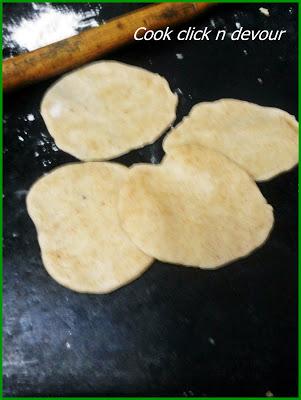 5.Heat oil in a flat bottomed kadai and deep fry the pooris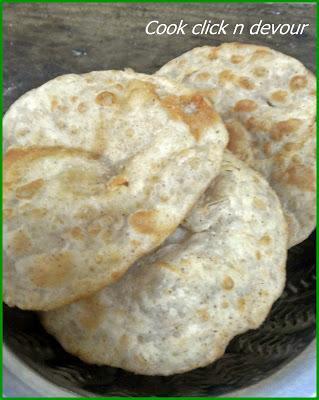 Preparation of sugar syrup and serving
Ingredients:
1 cup water
1/2 cup sugar
1 cardamom
Method:
Prepare one string sugar syrup with the above ingredients,dip in the prepared pooris one by one and remove immedietly.Allow to rest for 10 minutes and serve.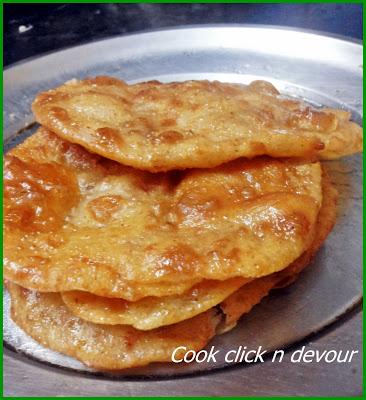 Time:40 minutes
Yield: around 20 small pooris
Notes:
1.You can add any other flavoring agents of choice instead of cardamom
2.While pooris are being deep fried get the sugar syrup into making to save time
3.If sugar syrup is prepared with one string consistancy,these pooris can be save for two to three days.
4.Layers will be seen once the pooris are cut for eating.