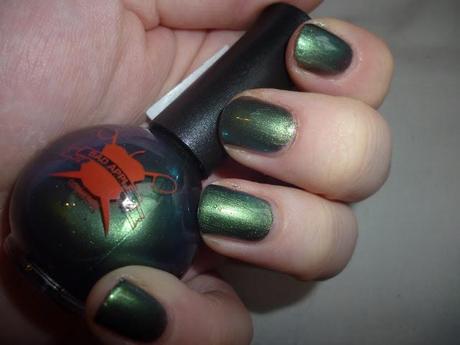 This was really hard to photograph, this is the closets I could get to the colour, I would

say

its ever so slightly more blue.
This is the second polish I have tried from Bad Apple and its a really unusual shade. Arkansas is duo chrome blue/green color that is classed as a 3D polish.
This applied opaque but the formula felt a little dry but not gloopy. I did two coats but you could probably get away with one if you are feeling lazy.
Compared to the last Bad Apple polish I tried this chipped after a couple of days which was a little disappointing but it might of been the circumstances as the shade Red delicious lasted well on me.
Overall I do really like this polish I just need to use a good top coat and to be honest I change my nail polish every couple of days so the chipping isn't a problem.
All Bad Apple polishes are free from Camphor, Formaldehyde, Toluene and Parabens. These retail for £9.95 here.
*This was given to me to try at the Xmas B

bloggers meet up.