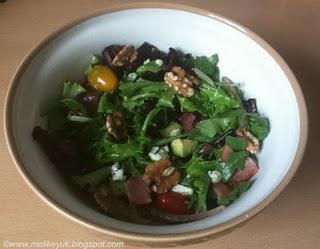 Dive into Summer: Bacon, Avocado, Roquefort and Walnut Salad
With a return to sunshine here in London, (yippee!) I raided the fridge (and fruit bowl) to make my simple Bacon, Avocado, Roquefort and Walnut Salad. This is so easy to put together and the ingredients complement each other really well. The roquefort provides the tang while the walnut brings the crunch. I say the fruit bowl as I often ripen my avocado pears next to the bananas. And before too long, they are ready to use.Works like a dream every time.
Time:
Preparation: 8 minutes
Cooking: 6 minutes
Portion Control:
Generous serving for 1
Ingredients:
3 rashers of smoked bacon
1 small avocado pear, or half a regular sized avocado pear
1/2 of 120g mixed salad bag, including rocket.
20g of roquefort cheese, chopped into cubes
6 Santini tomatoes (entirely optional - I am just addicted to these at the moment!)
6 walnut pieces
2 tbsp olive oil
1.5 tbsp of white wine vinegar (you may want to use 1 tbsp of vinegar depending how strong you like the vinaigertte dressing)
Salt to season.
Directions:
Pre-heat grill for 5 minutes before putting bacon onto cook. 
Remove bacon as soon as both sides have been sufficiently grilled. Leave for a couple of minutes to cool down.
Remove peel from avocado pear. Cut pear in half removing the stone in the process. Each pear half should be cut into 4/5 slices lengthways. Cut each slice into 3.
Tear the bacon rashers into pieces.
In a large salad bowl, add the olive oil and white vinegar and salt to season and whisk with a fork.
Add the salad leaves, the avocado chunks, roquefort, tomatoes and bacon pieces to the bowl and toss gently ensuring all ingredients are lightly coated in the dressing.
Garnish with the walnut pieces.
Serve with warm crusty bread and a very, very large chilled glass of

 Viognier. Cheers!