With the summer officially past, it is not only the schoolchildren who are returning to their place of work. For us adults, the autumn months mark the return to the office and, with most of our holiday entitlement having been eaten up by summer breaks, few of us can expect any form of reprieve until Christmas.
Yet, returning to work doesn't have to be contemplated with such negativity. The power which our clothing can have on our mood is startling and simply re-vamping your professional wardrobe this autumn could allow you to return to work with a definite spring in your step.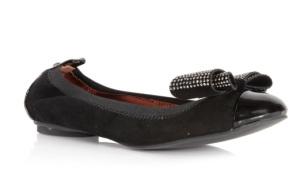 Whilst power suits, blouses and smart dresses will always be in fashion, the area which you need to pay closest attention to is your footwear. Finding the right shoes for your work outfit is a difficult decision and it is important that you invest in something which is as comfortable and supportive as it is attractive.
To give you some inspiration, here are a few classic work shoe styles which should find their way into every woman's wardrobe this autumn.
Back to black
The pivotal item of work place footwear, nothing can beat a good pair of black shoes. These exude style and sophistication and boast the impressive ability of being able to match any outfit (although there are those who would argue against the combination of black and navy blue).
There are plenty of options for black shoes this season, with both flat and heeled varieties proving popular. If opting for flats, dress them up with cute embellishments such as bows or flowers. There are plenty of gorgeous options available from a multitude of retailers such as Moda in Pelle and they will ensure your traditional work look is given a cute and playful makeover.
If you prefer your shoes to come with a little height, then lace up ankle boots are this season's item of choice. Wedge heels are great for the autumn months as they offer more support than thinner heels and remain comfortable when worn for long periods of time.
Invest in boots which are both practical and stylish, offering an attractive appearance in addition to warmth. Always check the tread on the bottom of the heel to ensure the boots are suitable for wearing over difficult terrain, with the end of the year often characterised by wet and potentially icy conditions.
If looking for an alternative material to the traditional leather, then suede is another popular choice for 2012.
Conservative colours
For those who want to shy away from the traditional black option, there are a few colour combinations suitable for work. Nude shoes are a particular favourite at the moment, with heeled varieties the most common.
Alternatively, navy blue and brown work well as professional footwear and you can always invest in shoes which are lightly patterned to give an interesting edge.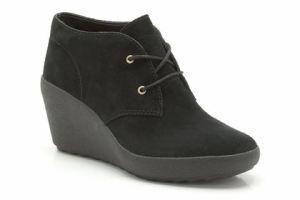 Alternative options
Whilst most workplaces insist on close-toes, there are some who may be able to wear sandals during the summer months. If you're reluctant to say goodbye to these comfortable options then why not consider investing in a pair of flat sandals for autumn?
These can be obtained in numerous colours, including black, grey and beige, and are ideal for those looking for a multi-purpose shoe.
Select styles which have a definite back and strap detailing which wraps across the foot rather than flip-flop designs and don't be afraid to consider interesting colour combinations.