I don't know about you, but I really don't want this summer to end. We have had a lot of fun and the summers in Maine are just beautiful.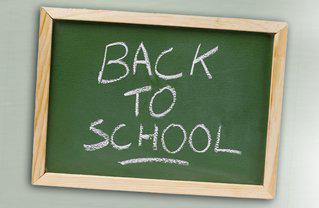 It will soon be over whether I like it or not, so I might as well start getting my older son ready to go to school. Here is a list of some of the things we are doing to prepare:
NOW
School supplies - My son already has a backpack and lunch box. His new teacher sent home a list that said he needed to buy crayons, erasers, and glue sticks. We also picked up some pencils, a pencil case, a notebook, and a folder for him to keep his papers in. I will put his name on all of his new supplies with a permanent marker so he can keep track of them.
His room – I need to organize his drawers and closet by making sure all the clothes are the right size and season.
RIGHT BEFORE SCHOOL STARTS
Food – I will stock up on snacks and drinks and start planing for some healthy, eco-friendly lunches I can send with him.
My car –  With all of the driving around our family does sometimes it is hard to control the clutter that goes on in there, so I will clean it out.
Rest – I will make sure he gets plenty of sleep at least a few nights before school starts to help with the transition.
Getting ready - We'll read lots of books before bedtime about school and riding the bus to get him more excited.
ONCE SCHOOL STARTS
Staying organized – I will have one spot for him to put his backpack when he gets home. I'll go through it and take any dirty clothes or lunch containers out right away and check to see if he has any homework or papers that need signing. We have a clipboard in our kitchen to make sure school papers stay safe. We keep it there because he normally sits at the kitchen table whenever he's working on something.
The night before - I will try to make lunches, pack bags, and lay out clothes to save some time and stress in the morning.
Hopefully all of these preparations will lead to a successful and more organized school year!
What else is your family doing to prepare?