Hi all!  Sorry for the lack of posting in the past few months but I'm back to blogging and have a new post on a recent purchase of mine; the Dior Celebration Collection Eye Palette.
Quick Note: This palette is now available for $40 (originally $65!) on Nordstrom! Click here for link!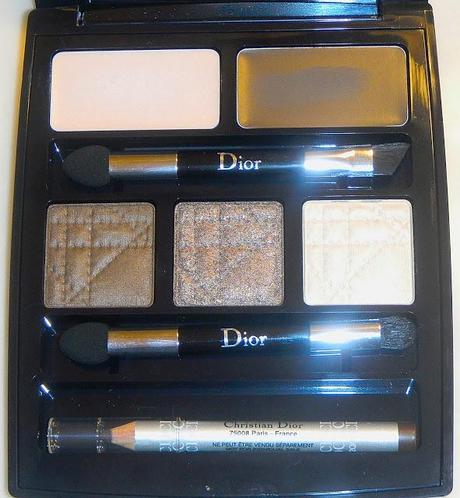 The palette comes with a primer, eye brow wax, 3 eye shadows, two double ended brushes(which work well with the products), a mini brown liner, and a sample size of the DiorShow New Look mascara.  The palette comes in Dior's signature velvet pouch with a holder for the mascara as well.
Serum Primer: This was the least impressive out of the palette, this does nothing for the eye shadow and I thought it actually made the shadow apply worse.  However there is a silver lining in that this is amazing to use on its own.  It has a fair amount of shimmer particles in it so when on the eye by itself it wakes up the eyes and imparts a glowy, natural look.
Eyebrow Wax: When I first got this I thought there was no way this wax would work for me because it's so dark but it applies lightly and blends well so that it can be used as a universal color.
Eye Shadows: There is one matte shade(light brown), one shimmer shade(taupe-brown) and one satin shade(soft white).  All are pigmented and apply/blend well.  These colors make for a gorgeous natural smokey eye.
Eye Pencil: I really thought this was just going to be an average run of the mill eye pencil, but I absolutely love it!  The color is a beautiful brown--shade 777 brown for reference-- with more dimension than I've found in other liners and it applies smoothly and has a good lasting power.  I'll definitely be picking up the full size of this!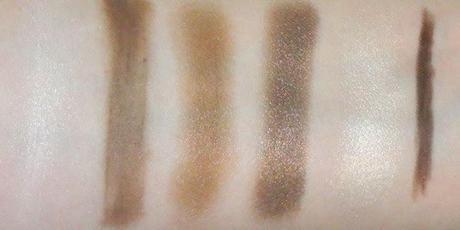 L-R: Serum Primer, Eye Brow Wax, Light Brown Matte #780, Taupe Shimmer #765, Soft White Satin(Glow) #515, Eye pencil #777
DiorShow New Look Mascara: I've already gotten the full size of this for Christmas because I loved it so much!  The New Look mascara adds length and volume without clumping up my lashes.  The brush shape makes it easy to grab all my lashes and I don't have any problems with smudging.