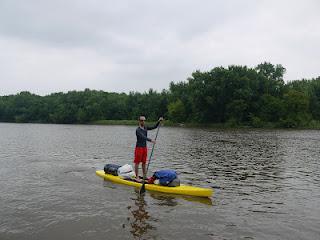 Last Friday I went to the Channel Four Comedy Gala at the O2, to get there we decided we'd head East via the River Thames rather than the Tube; the tube would be busy, hot and uncomfortable, the boat would provide a different view of London, a more comfortable seat and a nice cold beer!
Whilst on the boat I suddenly realised that the last time I'd been out on a river was last August, paddling the Mississippi. Since then I've walked, run, cycled, driven and flown past many a river but hadn't been out on one since paddling in to Memphis last summer after 1,120 miles on a Stand Up Paddleboard.
I loved being back on the river, admittedly on a much faster form of transport, but with a similar view as to that on the SUP. I've lived in London my whole life (22 years!) and had never seen Central and East London as I did from on the Thames on Friday; traveling past the Tower of London, Canary Wharf and HMS Ocean - stationed on the Thames for the Olympics! It was great, reminding me of why I had such an amazing time on the Mississippi.
The Comedy Gala was brilliant (you can catch it on Sunday night on Channel Four; look out for me in a black North Face t-shirt, I was filmed a lot!), but the lasting memory of last Friday was that I really must get back on a river soon - perhaps a canoe expedition? Who's keen?!