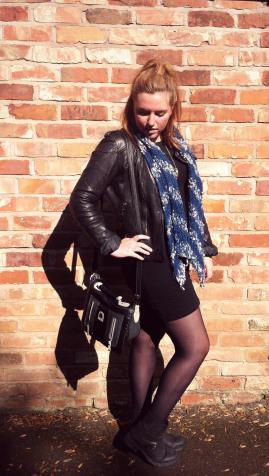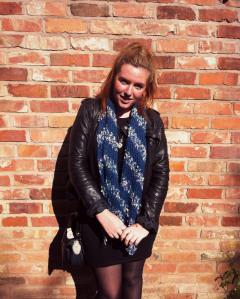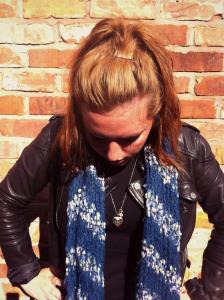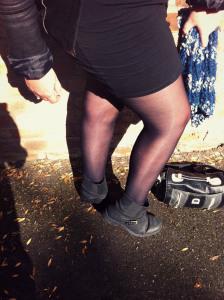 If I had any idea why I haven't posted for so long then I would be apologising to myself and to my lack of blogging ability. But other than my two week holiday that I came back from last week, I'm not completely sure why.
Okay so I despise my job and I've applied for Open Uni, so it may be the combination of applying for jobs and creating a study space at home; even so, I SHOULD HAVE FOUND TIME!
Last week we returned home from Portugal. Two weeks prior, we drove from home to Portsmouth. We then stayed overnight on a cruise-ship and spent far too much money, enjoyed far too much wine, got far too excited about sleeping in bunk beds in a tiny room and then slept far too much. In the morning, we drove off the ship into Santander, Spain (remembering that we speak NO Spanish – only Portuguese). We drove from Santander to Salamanca. Once we arrived in Salamanca (at the hotel we booked one hour previously in a lay-by) we then realised that the Spanish language and the Portuguese language were NOT similar (whoever told us that was lying) and struggled to understand a man who was playing a game of late night charades with us, in the end, it turned out it wasn't a film or a book; he just wanted us to move to the next hotel with him. The next morning, we couldn't be bothered to look around, we just wanted to get there – as we all collectively decided we personally preferred Portugal. We then drove to Guarda as we heard that that was nice and it was just inside the border of Portugal, we got there and were slightly disappointed. It was a bit concretey, under construction and everybody was a bit miserable, there was nothing of particular interest or beauty so (once we had stuffed our faces) we moved on. Next stop (after being pulled over by the police and given a hefty speeding fine) was Évora which was further down towards the lower half of Portugal. So we parked up, I got out of the car completely full of serious excitement about visiting the Capela dos Ossos (Chapel of Bones – slightly morbid excitement I know) and we walked and walked and walked around looking for it, even with a very hi-tech sat nav, we still couldn't find it. So then we stopped for a drink at a café in a really beautiful spot by a Roman ruin overlooking the hills and mountains. Once we finally found the Chapel of Bones we were ever-so disappointed, but not completely surprised to find that it was shut, closed, fechado. Sigh. So, roadward bound it was again and after 3 hours 45 we finally made it home!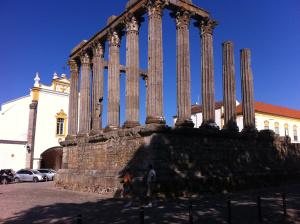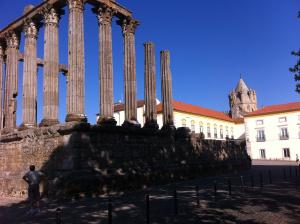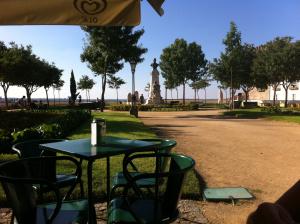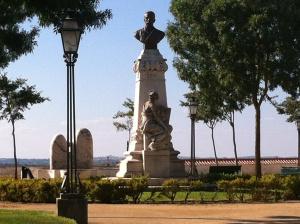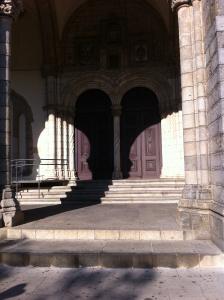 We have a small cottage in Cumeada which is on the outskirts of Silves and although its small and humble, I still love it. It feels relaxed and like home. This is why I was sad when my boyfriend and I had to leave, as we couldn't get enough time off work. I'm also jealous of the fact that my mother and brother are still there and will be for another month and a half. Oh the negatives of being an adult.
My mom is lucky enough to have started a small business out-there that she runs alongside her full-time job in the U.K. The reason I tell you this is because it may benefit anybody that is looking for a relaxing and traditionally Portuguese holiday! Visit http://www.algarvianlife.co.uk it's a complete working progress (that me and Kingsley are responsible for) but the foundations are there and I can honestly say that the places are ALL lovely (plus Palmeira is right next door to us!).
So enough of the advertising, back to business. I just used these pictures because it is me, at work, in just a boring every-day thrown together outfit. I'm looking rather gothic. I cannot believe that I am wearing winter clothes in August, it's just not funny England! My boots are from Next, my scarf is from T K Maxx, my dress is from H&M, my necklace was from a Charity Shop, my leather jacket is Levi's at T K Maxx and my bag – I couldn't tell you where it's from because it was a gift from my grandma a good few christmasses ago!
Oh, just FYI, I'm going to quit my job within the next couple of weeks – providing somewhere else wants me. During the transition between jobs, I will, of course, be going out to see my mom and possibly squeezing another trip to somewhere else into that too, why the hell not. As the classic and world-renowned saying goes : YOLO.