Yes I know I said I was going to start blogging regularly and then didn't but there is an explanation. For those of you who don't know I am 17 weeks pregnant and soon after deciding I wanted to blog again morning sickness hit and I can tell you I have never felt so ill in all my life. I was signed off work for about 5 weeks and I just spent most of my time either in bed or the bathroom feeling completely sorry for myself and I actually became a bit of a hermit. (I know the sickness will be well worth it when I get my gorgeous baby in April) Luckily now I am past the 12 week part I feel back to the old me and now feel its time to get back doing what I love.
I think I might write up some pregnancy blog posts, more as a diary for me but hopefully some of you will enjoy reading too.
So thats where I have been and now on to the usual topic of all things beauty. I thought I would share some of the things I have been loving with you all.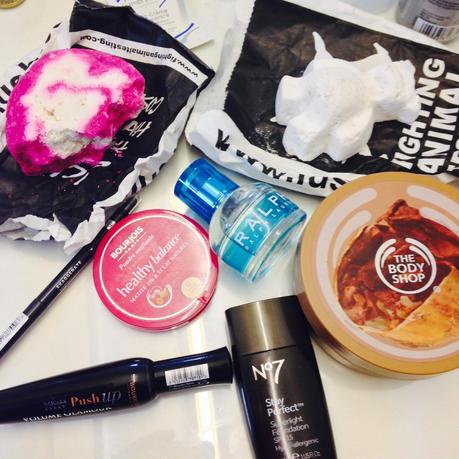 First up is this foundation from No7, I am not usually a huge fan of No7 make up but I have always got on with their base products. The Stay Perfect Superlight Foundation is exactly what it says, a light foundation that looks very natural on the skin with a satin type finish. It evens all the skin out and can be built up to a light/medium coverage but you will need concealer on any blemishes. I have the shade Calico and is perfect for my pale skin. I definitely can see this being a repurchase.
To set my foundation in place and to touch up any shine during the day I have been using the Bourjois Healthy Balance Powder. I have the lightest shade 52 Vanilla and it is such a lovely finally milled powder that looks completely natural on the skin. It is perfect at keeping things matte throughout the day.
Another Bourjois product I have been impressed by is the Push Up Volume Glamour Mascara. This is one of Bourjois newest releases I believe and its fab at adding lots of length and drama to the lashes. It has quite a thin, plastic brush that makes it easy to get right to the root of the lashes.
The last item of make up is the Rimmel Exaggerate Waterproof Eye Definer in Starlit Black. This is a black liner with a slight silver glitter running through it which adds just something extra to your eyes. Not only is the shade gorgeous but I am so impressed with the staying power of this liner, it really doesn't budge once set. I am eyeing up new shades already.
I am not the best at describing fragrances so I won't linger on the Ralph Lauren perfume I can't get enough of. Its quite a fresh, citrus scent that lasts all day and a complete bargain at boots at the moment. (The reason I treated myself)
I have always been a huge fan of The Body Shop Body Butters and the Cocoa Butter version has been slathered onto my belly day and night for the last couple of months. I know I can't avoid stretch marks but I like to know I'm doing something that helps, plus this smells amazing and makes your skin feel so soft.
Lastly I wanted to talk about Lush. I have had an on/off relationship with Lush products for years and have recently fallen back in love. Two I have been loving is The Comforter which is a bubble bar that just smells incredible. Its quite a sweet fruity scent but it isn't sickly, I literally have to sniff it every time I walk into my room. The other product is the Butterbear Bath Bomb which is filled with cocoa butter to make your skin feel incredibly soft. Its not a strong scent this one and has more of a soothing effect.
So there is a few beauty favourites, I would love to know yours? Also if you have any recommendations on Lush products as I am little obsessed at the moment..... I am off to sniff The Comforter bubble bar now!