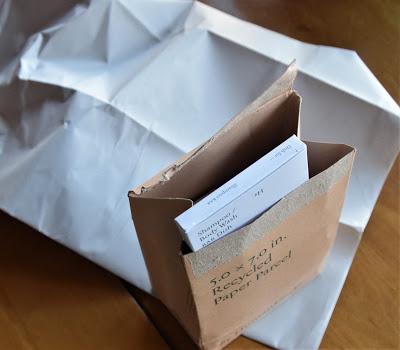 A few weeks ago, after asking for recommendations from Facebook friends, I ordered a bar shampoo and refillable deodorant. It's all in pursuit of reducing the amount of single-use plastic in my life.  
I was totally impressed with the tidy, waste-free, recycled paper packaging--a sturdy little cardboard bag, just the right size for what it contained. What a concept! Amazon, who often uses huge boxes for very small objects, could learn something from these folks.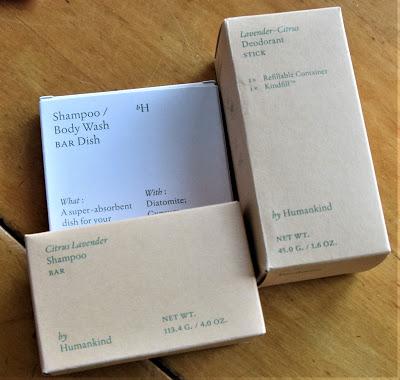 So, there was a bar of shampoo plus a soap dish for it and a refillable holder for the deodorant stick. I chose a citrus lavender scent for both and it smells heavenly!
I've been using both for several weeks now and am happy to report I really like them. The deodorant works and the shampoo bar quickly makes a great lather that leaves my hair squeaky clean. (I am using a little conditioner and will, when the big (plastic) bottle I have is gone, look into the bar conditioner.)
Using the bar shampoo has made me aware of how much traditional shampoo I've wasted -- squeezing out more than was needed. I suspect this bar will last a good bit longer than a bottle of shampoo. Which is good, as the bar stuff is a little pricey.
Just a baby step. Now I'm looking into bamboo toothbrushes and an alternative to plastic tubes of toothpaste. . .