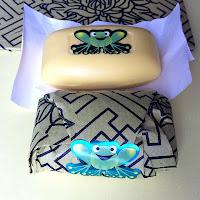 It's no secret that Baby Showers are coming back into fashion in a big way.  And why not; they're a simply divine way to celebrate the pending arrival of a precious new person, and who of us hasn't loved our babies, or a friend's bub,  long before they were born?
When thinking of cute keepsakes to make for a Baby Shower, I decided that soap as a party favour would be an easy option.  The great thing about it; is that they are a fun play on the 'shower' theme, they can be as cheap or as luxurious as you can afford, and they will make the party place smell clean and sunny for the duration of the do.
My recommendation is to buy the best quality soap you can afford.  If it is wrapped in gorgeous paper (many are); simply add a sticker or name label that suits the colours or motifs of the rest of the party.  Don't forget to add a bag tag and 
a message such as "soap glad you could share our shower."
If the soap is unwrapped or covered in tacky brands and logos, strip the paper off add either add a sticker straight to the soap, or
wrap it in patterned tissue paper (squares work best, and they should be 3 times longer than the soap), and use a decorative sticker to seal.
Remember; you don't have to be hosting a party to be crafty, why not wrap an assortment of soaps to give to the mother to be; what new mom doesn't crave a little luxury?  Go on... get soapy!