With summers back in full swing, perky quirky shades of color are back too! So dont escape the heat but beat it with fun cool colors.
Although i love subtle and neutral shades but for lips and always love playing with colors in every thing i choose, be it my wardrobe or my footwear and even in my home decor..that's what a Rajasthani gene you call!
Today i am sharing some more pretty perky shades from Nail Trends nail enamel. Got some more amazing colors from their bouquet. This time tried some new shades, which i never tried.
its Nail Trend lacquers in Gold Dust, Canary Yellow and Top nail art coat in Gold Glitter.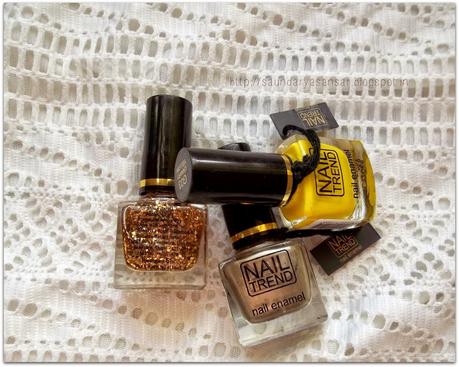 All of these comes in a pretty 8ml glass bottle with a simple yet trendy packaging. You can get it at any Reliance counter for 50 INR. Quite affordable and a good quantity for several applications. Guess its not available online.
You might have read in my last post where i first shared how i spotted this brand and some pretty nail colors along with the top coats.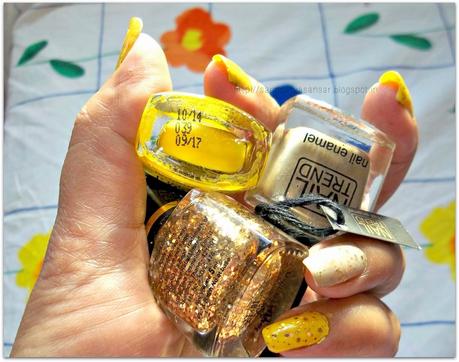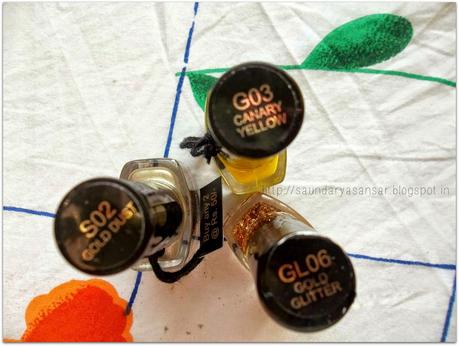 Nail Trend in Canary Yellow G03- its a pretty electric yellow with creme sheen. apply 2-3 coats for a proper opaque finish. Pigment is truly nice and alluring. Brightens your hands with the warm glow. Dries up fast and the best part it stays for 4-5 days without chipping. A top coat lengthens the stay.
The shade would suit on all skin tones gives a nice pop of color to your outfit. Initially i was little hesitant to try but after applying, i fell for it. Nothing less than a gel color.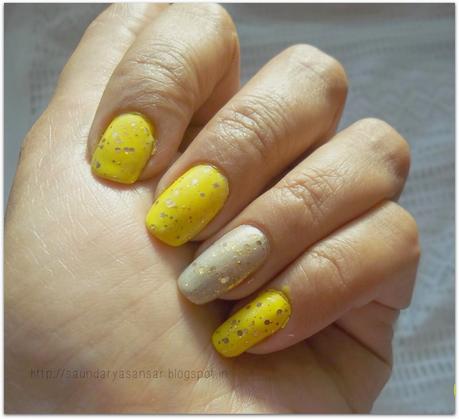 Nail Trend in Gold Dust S02- A warm but a subdued gold shade with shimmer which is not OTT for your hands. Rather after application gives a nude gold finish which looks simply amazing on your hands. Its a MUST have for a wedding or festive outfit. Pigmentation is amazing and you require 2 coats for a nice opaque finish but 3rd one would surely add up. Dries quickly and this too stays quite long, a min of 4-5 days without chipping. I wore this on my right hand and even after doing those daily chores, it was intact for 4-5 days. Loved it.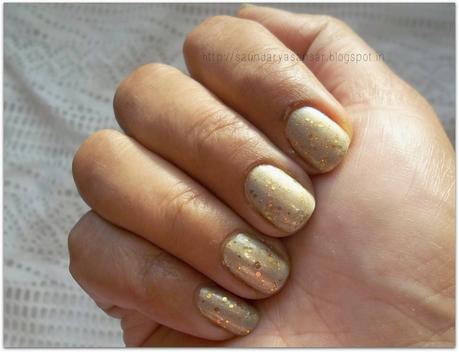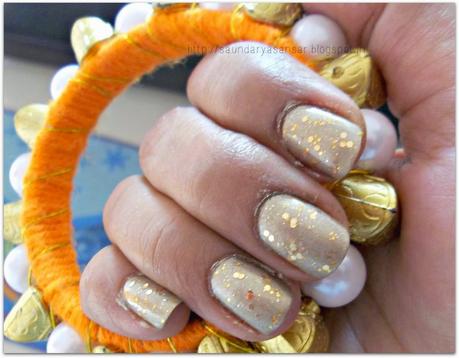 Nail Trend in Gold Glitter GL06- as the name suggests, glitters shade with flakes of gold in a transparent gel. its little tricky to pick out the pieces and apply it on nails and you end up applying 2-3 coats for a dense glitter application. But i applied only 1-2 coats and i was happy the way it turned out. It 'jeweled' my base coats of Gold and yellow and added fun/festive element to it.
Application, pigmentation and staying power is simple beyond expectations from a not-so-popular brand. You will forget other confetti's after trying this.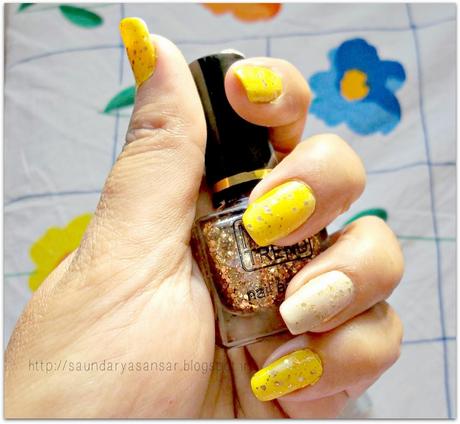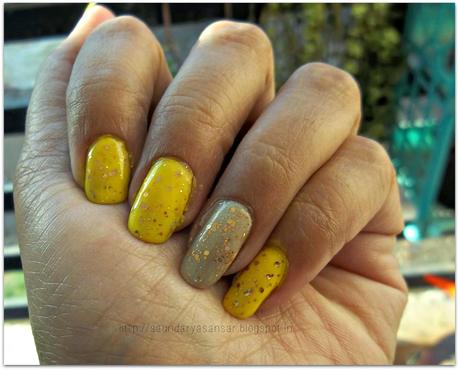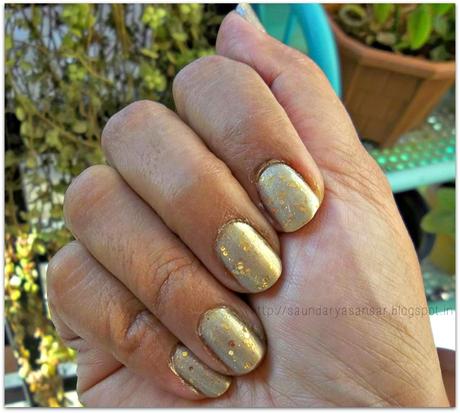 The only down side is that after applying glitter coat, the nail color does not chip easily but if not applied cautiously, it gives those fissure lines which looks little awkward. Also you need patience to remove glitter one while normal colors gets removed easily.
Overall Amazing colors with great payout. Highly recommended!