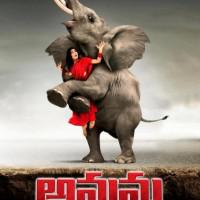 Film: Avunu
Cast: Poorna, Harshavardhan Rane, Ravi Babu, Chalapathi Rao and Rajeswari
Director: Ravi Babu
 Rating: ***
'Avunu' by Ravi Babu is a craftily executed thriller film that explores fear in the mind of the protagonist like never before. Barring few renowned filmmakers, others have always struggled with the thriller genre across all languages. Having said that, Ravi Babu's taut thriller is proof to what many established filmmakers couldn't achieve over the years and what many others are aspiring to make in years to come.
Fear is born due to various reasons and one among them is the state of mind. If fear is provocatively associated with darkness or loneliness, then the outcome one may anticipate, is far beyond human understanding. Ravi Babu, while showing what fear is like through the eyes of Mohini, allows the audience to experience fear of a different kind.
A newly-married couple, Harsha and Mohini move into a private apartment in a gated community, far away from the city. The couple plan on spending their honeymoon in Paris, but duty calls Harsha to Bangalore in the form of an unexpected technical glitch in his company. As Mohini adjusts to her new life in the house, she senses some invisible force watching her at all times and before you know it, you're in for a surprise.
All that Ravi manages to do is inflict fear in the mind of his protagonist, but not in her eyes. He builds the tension step by step, gradually all the way to an explosive and unbelievable climax. As a viewer, you're sucked into the whirlpool of fear Mohini is floating in and there's not much that one could possibly do besides thinking of avoiding everything.
The static camera, spoken greatly by the director in recent interviews, gives audience the thrill of not missing a single moment of the drama between Mohini and Harsha, who deliver a solid performance. Mohini, in particular, played by Poorna of "Seema Tapakai" fame, has given her career best performance.
It's great of the director to let his actors take the reins of the film instead of handing it over to them. This clearly indicates the amount of trust he placed on his actors which by the way didn't go wasted on screen. What keeps "Avunu" intact is the fact that it encompasses and presents everything within two hours to the audience, who are hooked and wondering what's about to unfold. In a way, he successfully transfers the fear of Mohini into the minds of the viewers.
Unlike Ram Gopal Varma's films, which deal with fear in darkness, cinematographer Sudhakar Reddy captures the excitement in bright light without moving the camera. Sekhar Chandra substantiates the tense mood of the film with a fitting background score.
"Avunu" is a thrilling experiment worth watching
This review was originally written for IANS news-wire