I love avocado toast. I honestly believe I could eat it every day.  I often enjoy it at Le Pain Quotidien with a drizzle of evoo, pickled vegetables and seasoned salt. I even make it at home when I want a quick and simple little vegan dinner, with just some fresh lime juice and kosher salt.  
This version from VegNews Magazine (photo by Julie Morris) sounds fabulous!  I snack on Nori when I want something yummy, quick and salty, so this recipe is next on my list.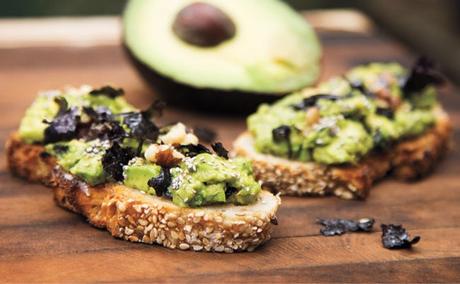 You will need:
2 nori sheets1/2 c mashed avocado (about 1 avocado)1/2 tsp fresh lemon juice1/4 tsp kosher salt4 slices sprouted grain bread1 TBSP coconut oil1 TBSP chia seeds1/4 c chopped walnuts
1. Into a wide bowl, crumble sheets of nori into large flakes.
2. In a small mixing bowl combine avocado, lemon juice, and sea salt and mix well. Add half the crushed nori flakes and fold gently until mixed well.
3. Toast bread in toaster or broiler for 1-2 minutes until lightly brown. Brush with the coconut oil and cut into quarters. Top with the avocado mash, the rest of the nori, the chia and the walnuts and serve!