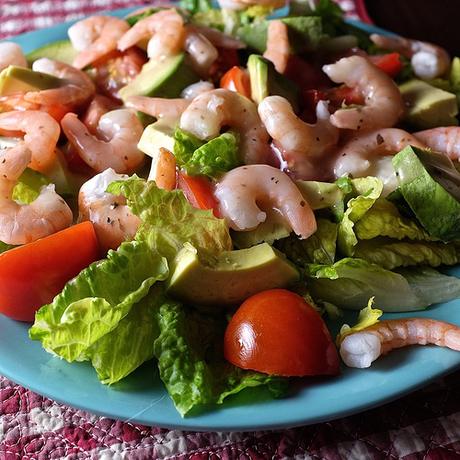 Photo by The Marmot
Nothing easier and more enjoyable than this simple avocado shrimp salad recipe with mayonnaise, the only thing that is different is the presentation. But nothing difficult to do really, and you can see how easy this recipe is from the preperation instructions below. A small cool entry meal, very fun to do and could make you feel good while making and eating it. It is a low carb recipe, so you can make it in your loose weight days.
For the taste of surprise it is just too good. If you like this style of recipes, I present you on this cooking blog that of the lawyer to the tuna or the avocado salad potatoes.
Ingredients for two people :
1 avocado
a few shrimps
homemade mayonnaise
Lemon juice
tabasco sause
Chives
Preparation of the avocado shrimp salad:
Cut the avocado into two along its entire length. Remove the kernel. Cut each half into fairly thin slices, but not too thin (otherwise they will break).
Sprinkle with lemon juice.
Brush the inside of two stainless steel circles with a little lemon juice also.
Lay the circles on the plates and arrange the avocado slices against the inner wall, flat side down. They must overlap.
Put the mayonnaise in a bowl. Add a few drops of the lemon juice and mix in with the tabasco sauce. Peel the shrimp and cut it in pieces then add it to the mixture along with the chopped chives. Mix well and garnish the inside of the slice circles with this mixture.
Let it cool until it's ready to be served. You should then remove the avocado shrimp mixture from the circles with care (as to not ruin the form or otherwise you will have just ordinary avocado shrimp salad, which is equally delicious, but I am looking for additional appearance with this recipe).
Enjoy!

Save
Print
Avocado Shrimp Salad   1 avocado a few shrimps homemade mayonnaise Lemon juice tabasco sause Chives Ingredients
1 avocado
a few shrimps
homemade mayonnaise
Lemon juice
tabasco sause
Chives
Instructions
Cut the avocado into two along its entire length. Remove the kernel. Cut each half into fairly thin slices, but not too thin (otherwise they will break).
Sprinkle with lemon juice.
Brush the inside of two circles in stainless steel with lemon juice also.
Lay the circles on the plates and arrange the avocado slices against the inner wall, flat side down. They must overlap.
Put the mayonnaise in a bowl. Add a few drops of the lemon juice and mix in with the tabasco sauce. Peel the shrimp and cut it in pieces then add it to the mixture along with the chopped chives. Mix well and garnish the inside of the slice circles with this mixture.
Let it cool until it's ready to be served. You should then remove the avocado shrimp mixture from the circles with care
3.5.3208