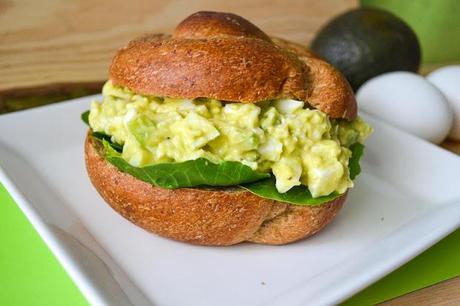 Ugghhh the weather outside is nasty today, the wind is whipping around, ice/snow is falling sideways, its just not pleasant to venture outside today.  I want spring and I want spring now! So I thought I would make a great spring sandwich and pretend that spring time is on its way and forget that we still    have 2 more months of winter here in Northern Japan :( You know what the best thing about spring is?.... Easter Candy! I love walking into the store and seeing aisles of easter candy stacked towards the celling.  My all time favorite, hands down, are the cadbury mini eggs, I could probably polish off a entire bag of them by myself.  It takes a lot of will power not to finish the bag in 1 day.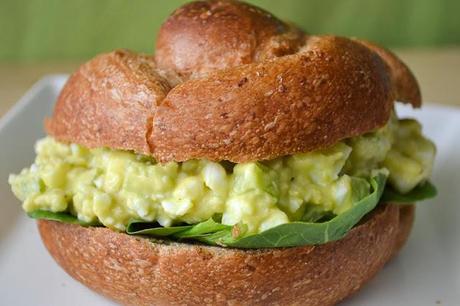 This spring time sandwich will not only have you thinking of spring, but it's a healthy alternative to your everyday egg salad.  There is only a small dollop of mayo and only half the egg yolk is used, the rest of your creaminess comes from the mashed avocado which is good for you because they are full of healthy fats.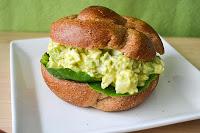 Avocado Egg Salad Sandwich
Recipe adapted from
Skinny Taste
Yields:
 2 servings
Ingredients
4 slices Whole Wheat Bread or 2 Whole Wheat egg twist rolls sliced in half
2 hard boiled eggs with yolks, diced
2 hard boiled egg, without yolks, diced
1 1/2 tablespoons miracle whip
1/2 avocado mashed
1/2 cup celery, diced (about 1 large stalk)
1 1/2 tablespoons apple cider vinegar
salt and pepper to taste
Directions
- In a Medium bowl mash together your avocado and egg yolks, add in the rest of your ingredients and mix until completely combined. Salt and pepper to taste.
- Toast your bread or roll and top with your acovado egg salad and enjoy.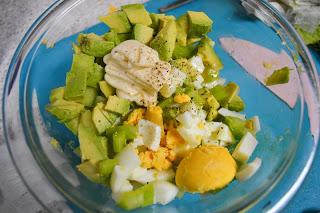 It helps if you mash your avocado and yolk
in the bowl first before adding the rest
of the ingredients, I like to learn the hard way ;)