Operatoonity.com review: Manon presented by the Academy of Vocal Arts
Live performance: Wednesday, May 7, 2014
Centennial Hall, The Haverford School
4.5 stars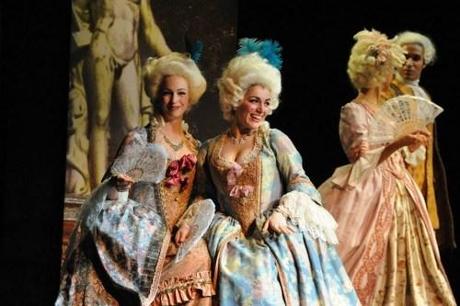 Julia Dawson as Javotte and Anush Avetisyan as Poussette | Photo credit Paul Sirochman Photography
Pretty in pink. Playful and sensual. The Academy of Vocal Arts' (AVA) new production of Manon by Charles Massenet was a sensual, floridly elegant success, owing to purposeful direction by Tito Capobianco and solid execution.
Surely the inspired set design by Peter Harrison, which paid homage to a scandalously famous rococo painting, and the stunning costumes by Val Starr made this the most beautiful production this reviewer has ever seen at the AVA.
Since a work of art suggestive in its time served as a muse for the production team, the show also had an earthy verismo quality to it. While the powdered wigs and brocade ensembles lent the show a Mozartian sensibility,  the passionate clutches and languishing sighs were all Puccini. Verismo Massenet? You had to see it to believe it.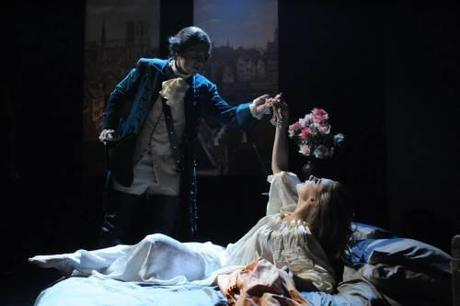 Daniel Noyola as Monsieur de Bretigny and Sydney Mancasola as Manon. Photo credit Paul Sirochman Photography
Manon is a classic "tart-with-a-heart" story that sets the title character on a life journey that is novel-worthy in scope and emotional depth. Her journey is exceedingly hard to capture, even in a five-act opera, though many companies have made an effort to do so. The AVA's most recent production certainly made a game and valiant go of it.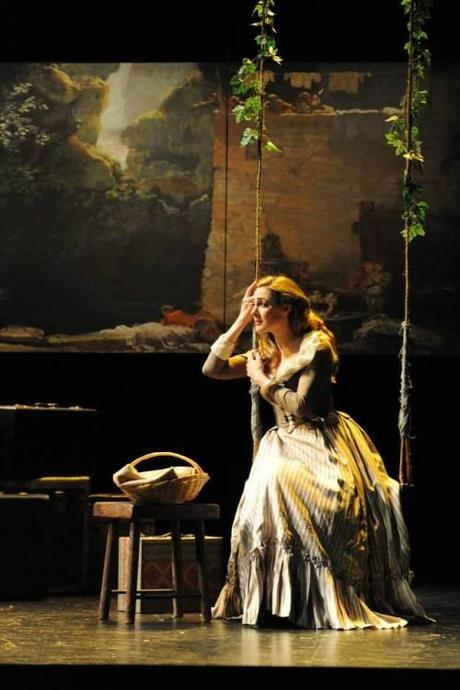 Sydney Mancasola as Manon in Act I
As Manon, Sydney Mancasola was more believable and sympathetic as the virginal girl headed to a convent whose life is forever altered when she meets La Chevalier Des Grieux and finds love. Sometimes singers are swallowed up by the too-loud AVA orchestra and forced to push too much to be heard, but there was no danger of this happening to Mancasola. Can a singer be too loud? Yes, I believe at times she was. Though there was power and beauty in her singing, she needs to back off those pince-nez shattering high notes at times. She was, however, a delight in the much anticipated Gavotte scene–confident, charming, and vocally arresting.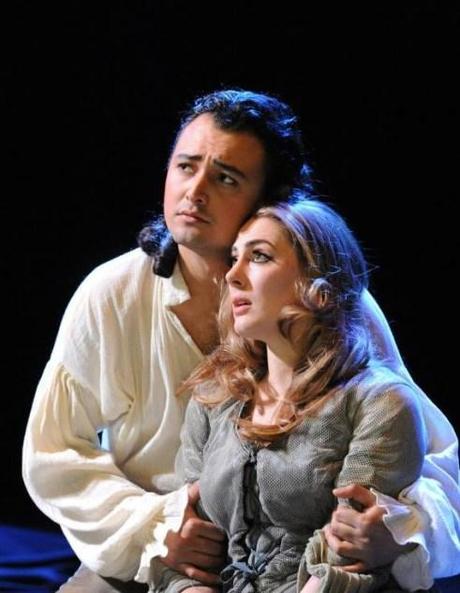 Diego Silva as Des Grieux and Sydney Mancasola as Manon in the final act. Photo credit Paul Sirochman
As Chevalier Des Grieux, Mexican tenor Diego Silva turned in a worthy performance. He has an Italianate quality to his singing and also to his onstage affect. Singing this French opera was a bit beyond his reach though he had many shining moments that evening and a stage presence that is endearing. Des Grieux also makes a life-altering journey, from love at first sight, to hating Manon for her excess, and then loving her in spite of her shortcomings, which he conveyed with conviction, despite his tender years.
All the men in supporting roles were simply splendid–bass-baritone Daniel Noyola as the scheming Monsieur de Bretigny, baritone Michael Adams as Manon's cousin Lescaut,  tenor AVA Alumnus Jeffrey Halili '06 as the opportunistic Guillot Morfontaine, and bass-baritone Musa Ngqungwana as the manipulative Le Comte des Grieux. With all these men consipiring against her, Manon never had a chance for a truly happy life.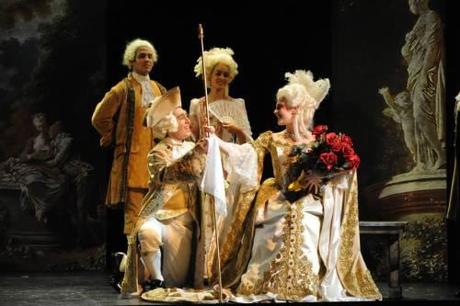 Armando Piña, Jessie Nguenang, Daniel Noyola, and Sydney Mancasola. Photo credit Paul Sirochman
It also must be said that the women in the supporting and ensemble roles were delightful–beautiful to see and hear. Brava to Anush Avetisyan as Pousette, Julia Dawson as Javotte, and Alexandra Schenck as Rosette, whose talents and feminine wiles lured Manon to explore her innermost desires for love and luxury. Surely one of the advantages of seeing AVA productions is that the company members not singing leads in the current show comprise the ensemble. Every choral number is a treat.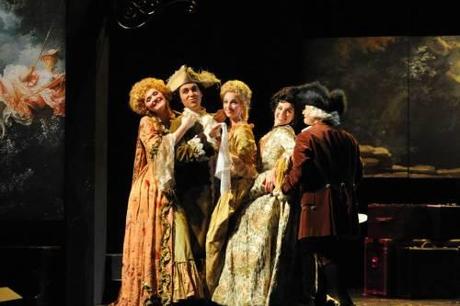 Alexandra Schenck, Daniel Noyola, Julia Dawson, Anush Avetisyan, and Jeffrey Halili (AVA '06). Photo credit Paul Sirochman Photography
Massenet's duets are also masterful, but I still miss the precision and impact of Mozart and Verdi in his quartets and quintets, which seem to spill out like unruly, leggy blossoms at the end of the growing season. Perhaps the small group numbers are harder to sing but those parts of the show seemed to be the weakest.
As for Christofer Macatsoris' conducting, the tempi were perfect–critical in a long work that the score not drag. A little less volume might have helped the singers to rein in their occasional vocal "shouting."
Overall, a winning production of a beautiful opera in the repertoire, and worthy of the generous ovation accorded them all at the evening's end.