Operatoonity.com review: L'italiana In Algeri presented by the Academy of Vocal Arts
Composer: Gioachino Rossini; libretto: Angelo Anelli based on his earlier text set by Luigi Mosca
Live performance: Tuesday, November 18, 2014
Goodhart Hall: Bryn Mawr College, Bryn Mawr, PA

The Academy of Vocal Arts (AVA), Philadelphia's premiere opera training academy, routinely transports nearly every production to the Greater Philadelphia suburbs including the Centennial Hall at The Haverford School. This is a much heralded tradition that operagoers appreciate. It's a lovely hall and very convenient for suburban opera lovers.
The AVA can't be faulted that the day the company was scheduled to offer L'italiana In Algeri in Haverford was  frigidly cold for November in Pennsylvania–below freezing all day. They discovered their venue's heating system was inoperable and had to quickly relocate nearby for that evening's show.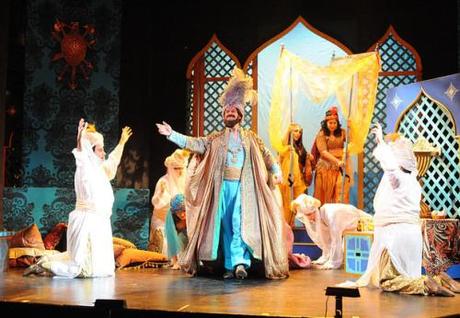 The cast of L'italiana in Algeri, presented by the Academy of Vocal Arts, 2014
Though the venue was toasty warm, Goodhart Hall at Bryn Mawr College had no orchestra pit, so the entire orchestra had to pile onto the stage for the performance, which left only the proscenium available for performers. Nor could the set from Centennial Hall be readily installed at Goodhart. Lastly, the facility could not accommodate supertitles, so none were offered, at least to those audience members sitting in the balcony, such as this reviewer.
Despite all these challenges, the performers were there to put on a show and perform they did. They seemed unfazed by the musicians behind them, the lack of set around them, and  in the absence of supertitles, every audience member laser-focused on their performances, trying to extract meaning from every note, every gesture, and every facial expression.
I suppose the company had a bit of fortune that all this occurred during a Rossini dramma giocoso. The storyline is a happy marriage of nefarious plotting against a pair of deserving and attractive lovers, which is foiled, of course, so the evening can be all wrapped up in a happy-ending bow.
The Turkish Bey Mustafà is bored with his harem, wants an Italian girl, and, lo and behold, a made-to-order beauty, Isabella, washes up on shore with a band of pirates: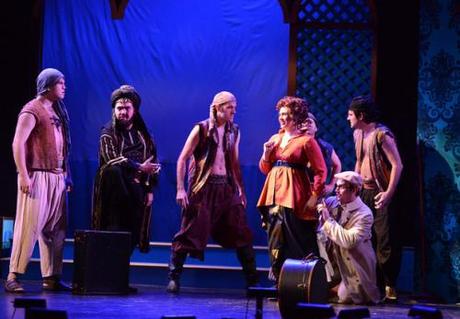 Isabella and the band of shipwrecked pirates
As the much-admired L'italiana, mezzo-soprano Hanna Ludwig delivered a sturdy performance. The role was written for a contralto, and at times, it seemed the lowest notes required fell outside of this mezzo's comfort range.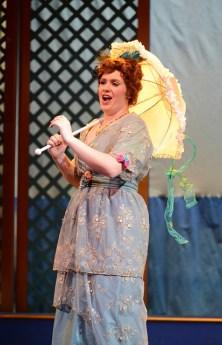 Mezzo-soprano Hannah Ludwig as Isabella
She did have a great sense of comic timing, especially with the band of shipwrecked pirates.
As the Italian slave Lindoro, Australian tenor Alasdair Kent had that all important Rossini tenor ping to his voice. His lovelorn affect was endearing. His voice cracked a few times throughout the night,  but his acting and onstage presence were solid.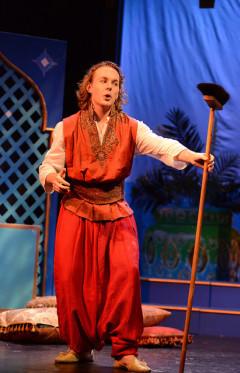 Tenor Alasdair Kent sang the role of the lovesick Lindoro
Best performance of the evening honors must go to bass-bariton André Courville as the Turkish Bey Mustafà. His powerful voice and spot-on characterization never wavered. He was imperious and comical at the same time. As Mustafà, he appeared completely unfazed by the change of venue, lack of meaningful set, orchestra playing behind him, and clambered onto and off his makeshift throne with aplomb. His scenes with Michael Adams as Isabella's would-be lover Taddeo were magical. Bravo, Mr. Courville.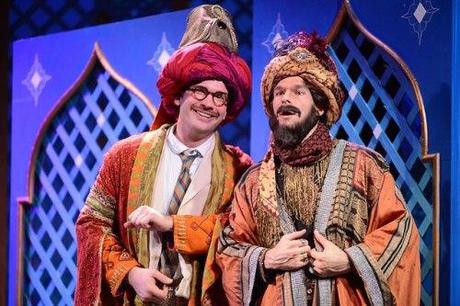 From left to right: baritone Michael Adams as Taddeo and bass-baritone André Courville as Mustafà.
Because the ensemble exchanges roles throughout the run of the show–the principals are typically double-cast–the AVA chorus is perpetually excellent and a highlight of any AVA show. And even though the role was smaller, Anush Avetisyan as the discarded wife Elvira and her clear soprano with its bell-like timbre brightened the stage with each entrance.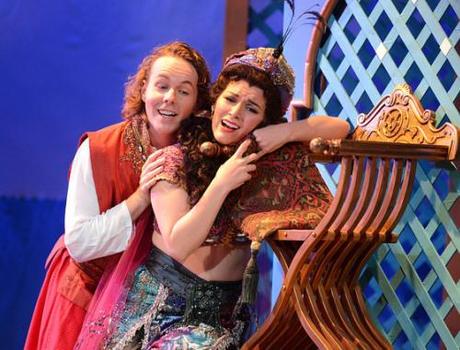 Alasdair Kent as Lindoro and Anush Avetisyan as Elvira
Costumes by Val Starr were lush and lovely–a sparkling cut above. While the turquoise palette used to represent Algier was so appealing, the portable blocks which seemed to be configured and reconfigured incessantly and nonsensically became distracting. Credit director Dorothy Danner for instilling in her cast a "show-must-go-on" ethos, or perhaps that credit is shared with the AVA faculty.
I was expecting the AVA orchestra to overpower the singers–the number of pieces alone (31!) was foreboding–but was pleasantly surprised by the control that conductor Richard A. Raub exerted over his musicians–their contributions were balanced and beautiful.
Not every company could've salvaged a show following a perfect storm of trouble, but they all deserve credit for weathering the unexpected woes. The cast was richly rewarded with applause and cheers at curtain call.