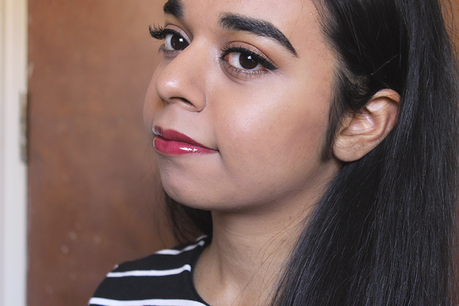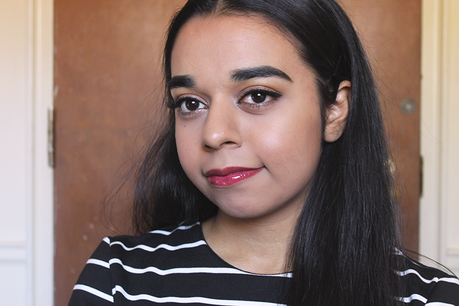 In light of the fact that it took over a month to get my Fall senses to kick in, here I am with an autumnal look a few weeks before winter begins. For this post, I am doing a makeup look inspired by a popular Chinese actress named Li BingBing. I was looking up photos of Fan BingBing, another very very popular Chinese Actress, and found a photo of Li wearing a beautiful dark lip with feathered out lashes (photo here). It just screamed Fall! I tried to recreate it and even straightened my hair with my Irresistible Me Diamond Professional Hair Straightener, which you will hear about in an upcoming post.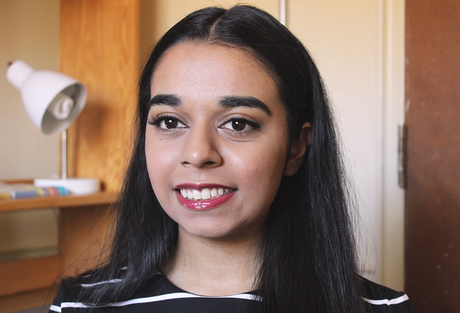 Rimmel Stay Matte Primer in #003 | $6Covergirl Ready, Set Gorgeous Foundation in #220 | $7 MUFE HD Concealer in #R32 | $27 Maybelline Master Concealer in #30 (Light/Medium) | $9 Maybelline Shine Free Face Powder in #02 (Medium) | $5 Urban Decay Eyeshadow in 'Buck' | Naked Paletted 1
Mac Pigment in 'Naked' | #22Maybelline Eye Studio Gel Eyeliner in 'Blackest Black' | $10Nars Dual Intensity Eyeshadow in 'Sycorax' | $29 Urban Decay Perversion Mascara | Travel SizeArdell Demi Whispies Eyelashes | $4Hourglass Ambient Lighting Powder in 'Iridescent Light' | Ambient Lighting Edit - post here Hourglass Ambient Lighting Blush in 'Mood Exposure' | Ambient Lighting Edit - post here  Becca x Jaclyn Hill Blush in 'Amaretto'| $52, from palette Elf Lip Gloss in 'Micheal' | $3
Mac Fix+ | $23 | post here 
This look was on my Makeup Looks to Recreate board on Pinterest (link) for the longest time, but now, I was given a reason to do it.  Also, a lot of these products were included in my Autumn Edit, 2016, which I posted last week here.
I hope you enjoyed this post and tell me what other posts you would like to see in the future!
Happy Veterans Day and have a great weekend!