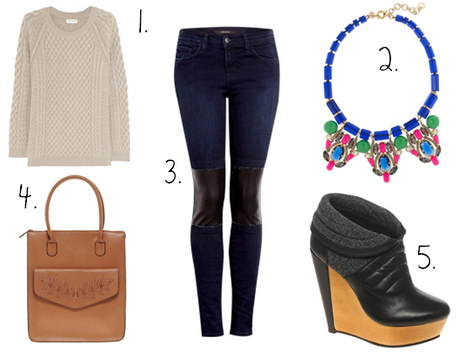 1, 2, 3, 4, 5.
Now that September's here, it's time to put away the sandals and summer dresses in place of chunky cable knits and leather ankle boots. This may be a horrible thought to some, but not me - I love the next few months - walking around with the crunch of fallen leaves underfoot, cosy nights in by the fire, mulled wine  and a good film to watch - perfect :)
These are just a few of the pieces that I'd love to get my hands on if I had the pennies. Top of my list is this gorgeous "Pieces" bag available at ASOS. I just love the detailing on the front and the fact that it's the perfect size for all the unnecessary junk I like to cart around (if you hadn't guessed by now, I'm a bit of an oversized handbag junkie!)!
Hope everyone's having a lovely week! I'm off now to indulge in my latest TV obsession - Dexter. Little late to the party with this one, but it's soooo good I can't tear myself away! Want to get the first six series watched before the new one starts in a couple of weeks! Anyone else a fan?
TTFN anyway! :)


Ooh P.S. I was thinking of doing another wishlist post like this focussing solely on highstreet items - so if you'd like to see that make sure to let me know?