My favorite season is Autumn, but I always forget how unpredictable the weather can be! Today it's been rainy, windy, and sunny all in one.
I'm currently debating which jacket to get this year. There's been some really beautiful designs cropping up everywhere, but with coats I have to have something that is very cosy so I can snuggle into it on foggy mornings on my way to work, or use it as a makeshift blanket in the park.
Here are my top picks so far: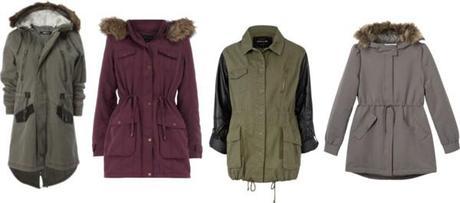 1. Gina Tricot // Pernilla Parka EUR 59.95 (£40)
This is my favorite coat so far. It's just a simple parka with a nice fluffy hood, but the little details  make me love it. It features cute pleather pocket tops and a nifty sinch in waste option, so you can create an hourglass figure or wear it loose for a more slouchy style.
2. Dorothy Perkins // Burgundy Faux Fur Hood Parka £53.10
Everyone loves burgundy for autumn. This cute and comfy coat ticks all the boxes with a decent sized faux fur trimmed hood and big pockets to house gloves and cold hands. It also features a waist tie belt for changing up the look. Good old DP!
3. River Island // Khaki PU Sleeve Army Jacket £55 (Sold Out! *Crys*)
A blogger favourite, and a dupe of last years
Zara
coat that everyone was coveting over. Unfortunately at the time of writing this it was still in stock and all was well with the world, but now it's sold out! However do not despair as there are quiet a few dupes of this one around too and at a cheaper price. Head over to New Look and
Primark
this autumn/ winter to grab a bargain copy.
4. Monki // Jarah Jacket £70
This simple Monki jacket has a very feminine shape to it whilst still maintaining an androgynous kind of style. I love the color and the minimalist look of this one. It features a faux fur trimmed hood, puffed shoulders and a nice high neck line for keeping out drafts...
Which one will I choose? Which one do you think I should choose? Haha, I sound like Mr Susan:
Anyways, I hope you enjoyed this rambley post! Stay tuned for part two, where I will be sharing my top evening jackets, for times when carting around a big frumpy coat just wont do.