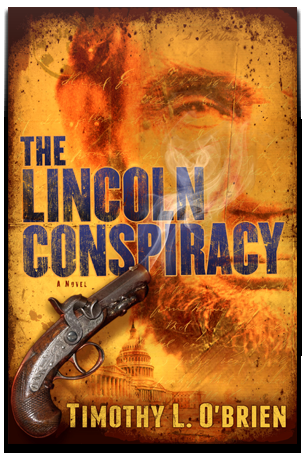 The Lincoln topic is hot, hot, hot right now with the movie recently released and several books that are out right now, such as The Lincoln Conspiracy by Timothy O'Brien.  I am thrilled to have the author here today answering a few questions about his writing and book.
Q:  Fiona was a formidable woman, wife and friend to Temple McFadden and company.  The essence of her character brought a sense of virtue and responsibility to Temple – is she based upon anyone in particular?

A:  I think Fiona is based – in part, only though! — on a whole group of exceptional women I've been lucky enough to be exposed to throughout my life. My mother, my sisters (I grew up with five sisters), some very close friends who are women, and, most important, my wife, all have shaped who Fiona is. But Fiona is really a woman of her era, a woman of the Civil War period, and in that regard, no one whom I encountered could have shaped her entirely because she lives in a very specific world and I had to try to place her and be true to her as a mid-19th Century woman. She may surprise some readers with her "modernity" but none of that is at odds with the era, and that's one of the nice discoveries that Fiona offers readers. She's an authentic embodiment of a very specific and courageous woman of her time.

Q:  Also, all of the "good guys" seemed to have a crutch that they either did not or could not overcome – except for Fiona. Was that deliberate or we just have not "seen" her human flaw as of yet?

A:  I think Fiona has some very particular limitations! They aren't as easily discerned as the flaws that Temple and Augustus are juggling, but they're there and they circumscribe her in ways that she might otherwise prefer not to have to overcome.

Q:  The women were all portrayed as strong-willed with a spine of steel from Sojourner, nurse and friend to Augustus, Dorothea Dix – superintendent of army nurses, and Fiona, wife to Temple and medical doctor.  Will we see more of Fiona and/or additional women of progressive change in upcoming McFadden novels?

A:  The Civil War ushered in a period of great change and new beginnings for African-Americans, which I think we're more familiar with as readers than we are with the progress women began making during that time. Yet it was a profound moment for women, too. The suffrage movement began to take flight and women were carving out important new roles for themselves in society, particularly in the worlds of medicine and hospital care. All of the women in The Lincoln Conspiracy either capture some of the authentic forces set in motion by the Civil War (Fiona is an obvious example) or are historical figures who were alive and active at the time (like Dorothea Dix and Sojourner Truth). So yes, you'll see more about what women encountered and wrestled with in upcoming McFadden novels.

Q:  The research for The Lincoln Conspiracy must have been tremendous, from knowing the simple fact that the Union referred to the Confederacy as the "Sesech" to the opium addictions of the soldiers upon return from the war.  What can we look forward to learning from a historical standpoint in your next Temple McFadden novel?

A:  This is the first in a multi-part series about Temple McFadden and his wife, Fiona. The next book will be set largely in New York, and the arc of the whole series will be sent against the growth, chaos, magic, and upheaval of the industrial revolution and Temple and Fiona will have to navigate all of that using their wits, patience and senses of humor. What they learn about what's happening around them will be the way that readers also learn more about the historical realities of the era. Railroads, of course, will figure prominently in all of this.
Thank you so very much Mr. Timothy O'Brien for taking the time to visit The Novel Life today.  I thoroughly enjoyed meeting Fiona and Temple McFadden in The Lincoln Conspiracy (review here) and I'm looking forward to seeing what happens next in their lives!  If you haven't jumped on the Lincoln train, it's a fascinating ride!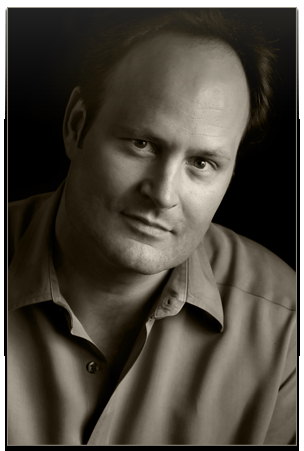 About the Author: 
Tim O'Brien, an award-winning journalist, is writing a series of historical thrillers for Random House that are set in the years after the Lincoln assassination. The first of these, The Lincoln Conspiracy, an absorbing, fast-paced tale of murder, intrigue and riddles in post-Civil War Washington, arrives in bookstores on September 18.
Tim is also the Executive Editor of The Huffington Post where he oversees all of the site's original reporting efforts. Prior to joining the HuffPost in early 2011, Tim was an editor and reporter at The New York Times.
Tim edited a ten-part series about severely wounded war veterans, Beyond the Battlefield, for which The Huffington Post and its senior military correspondent, David Wood, received a Pulitzer Prize for National Reporting in 2012.