Arriving in

Hallstatt

is quite the experience in itself. With the train station on one side of lake and the village itself on the other, we took a ferry across the lake to get there and we were awarded with a spectacular first impression of this famous Alpine village.
The lake is 5 by 1½ miles, set in a mountain valley where the heavily forested dark green mountains seem to shoot straight up from the water's edge, one of the greatest Alpine lake settings. Boat rides on the lake are available.
The local church is worth a visit. The charnel house in the graveyard contains bones, including painted skulls, of the local dead whose graves are dug up after 10 or 12 years to make room for new clients.
A funicular will whisk you up to the Salzwerk, or salt mine, in a valley above the town.
If you get the chance also visit nearby Obertraun for a tour of the ice caves.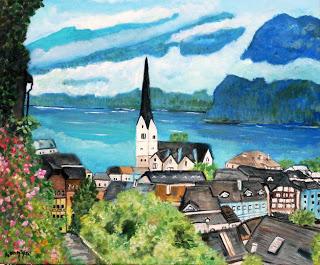 Austrian Town of Hallstatt - 
Great Attractions (Austria)
Take a tour of Austrian Town of Hallstatt in Austria -- part of the World's Greatest Attractions travel video series by

GeoBeats

, http://www.geobeats.com/.
The little town of
Hallstatt
, Austria is a beautiful, peaceful, and historically significant destination.
It is located in picturesque mountains alongside the
Hallstatt
, See, its scenic lake.
It's fairly quiet with a population of less than 1,000 people.
Small but ancient this is one of the oldest areas in Europe, at roughly 7,000 years old.
The high salt content of the area made it wealthy in the ancient world.
There are still traces of Roman and Iron Age civilizations in the area.
Today,
Hallstatt
is known for both its historic value and its picture-perfect Austrian landscape