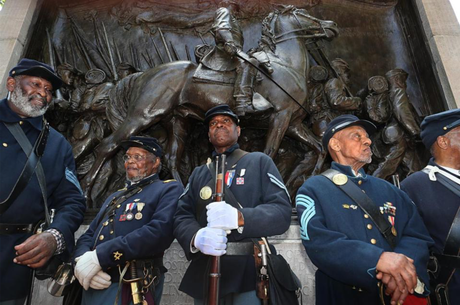 Glory on Boston Common
Tuesday, August 13, 2019
8:00 p.m.
Parade Ground, Boston Common
This is a free event
Join us for a special FREE screening under the stars of the Academy Award-winning film Glory on Boston Common. As a part of the Shaw 54th Memorial Restoration programming, the Partners are excited to host an outdoor screening of the classic film on the Parade Ground.
Glory tells the story of the 54th Massachusetts Volunteer Infantry, first black regiment recruited from the North to fight for the Union Army, and their heroism in the American Civil War.
Byron Rushing will make remarks and introduce the film. Rushing is a former member of the Massachusetts House of Representatives, representing the 9th Suffolk District from 1983 to 2019. He was the first president of the Museum of African American History in Boston and oversaw the lobbying effort in Congress to establish the Boston African American National Historic Site, a component of the National Park Service.