Caring for skin usually limits to Face or at times hand or feet but what about body??
Its hardly at times a good Soap/Body wash and not more than occasional ubtan & scrub for me.
A good body massage with a nice scrub and treatment pack is the rarest for me. but what if you dont need to spare extra time and need not shell out extra bucks from your pocket an get a healthy spa at home??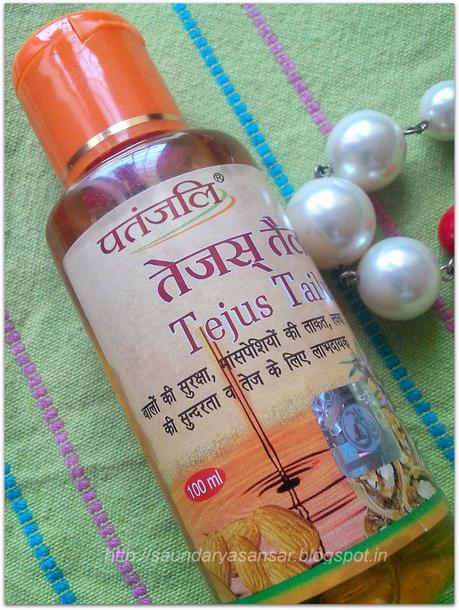 Today its about an Ayurvedic product which is quite popular in India- Products from Patanjali Ashram by Baba Ramdev. Its about Tejus Tailum.
This product is an oil which is targeted for skin and hair care.
This is a sleek simple transparent bottle with a flip cap. Plastic and sturdy to carry and travel.
it is available on all retail patanjali outlets across the country and also online on joybynature.com.
you can get this 100 m bottle at 60 INR.
its is a deep yellow coloured oil with medium consistency and a strong but lovely fragrance. it contains a mixture of oils like almond oil, Castor oil, walnut oil, sunflower oil, sesame oil, groundnut oil, soybean oil, mustard and olive oil in a base which is not mentioned. Seems completely organic and ayurvedic.
1. for my kid's hair and body massage
2. for my daily body pre-post oil massage
and lastly at weekends - Take a break for pampering session at home- a good homemade body scrub either with Rice powder or cocoa powder and apply it along with light massage and wash off.
post this apply a liberal quantity of oil with a good body massage. Aroma would fill your nostrils and you will love it. Leave it for a while and if possible take a sauna bath.
Lastly apply body mask, i prefer clay masks. As per naturopathy, you apply black soil all over your body and wash off while in semi dry state. This absorbs body heat and would relieve you of pains and stomach acidity troubles
I always found a new me and a better skin texture post every session. Not only using this oil post bath in my daily routine, has helped me keeping away daily needs of extra heavy moisturisation but also combat skin infection (which i am prone too)
Overall an amazing an affordable product for your daily skin and hair care routine.Highly Recommended!