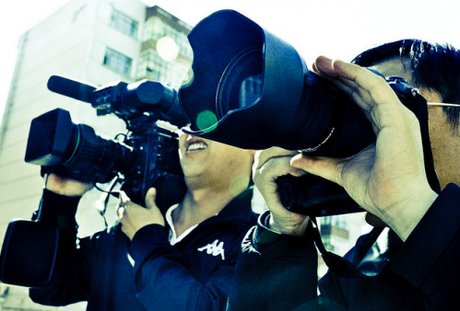 Photo by baatarscc on Flickr.
The site I just created — So, you want to be a journalist — is like an advice column combined with the "most likely to succeed" section of a high school year. I designed it for a group of first-year undergrads at UBC.
(Note: I can't take credit for the good taste: I generated the list by asking my peers for their recommendations.)
The site is self-explanatory, but I simply have to highlight how much street cred the advice-givers have earned in their relatively short careers.
For instance:
Bethany Horne beat mainstream media giants on a major G20 story. She was among the very first to report that the police had been granted more powers to search, detain and arrest people in and around Toronto's downtown security zone.
Jesse McLean was entrepreneurial enough to get to Haiti with an NGO while interning at the Toronto Star. At the age of 22, he was one of the first Star reporters to get there after the earthquake, then turned in assignments that showed skill past his years.
Allison Cross, Leslie Young, and Kate Allen were all part of a documentary team that won an Emmy for their film on e-waste. While still in J-school, they earned one of the highest honours you can earn for investigative journalism, beating out established heavyweights like 60 minutes and Nightline.
Bottom line: If you want to get into journalism, you want to read what these fresh minds have to say:
All the following posts are available 

here

.
Filter everything for yourself, including this advice. Advice from William Wolfe-Wylie
To write interesting work, you have to be interested. Advice from Leslie Young
You have to love it. Advice from Lauren Pelley
Come to grips with the worst case scenario. Advice from Arden Zwelling
When you think you've worked hard enough, work harder. Advice from Lucas Timmons
J-school isn't the only option. Advice from Tamara Baluja
Get inspired. Respect your audience. Think ahead. Advice from Bethany Horne
Live an interesting life. Advice from Jessica Linzey
Don't do it for fame or fortune. Advice from Liem Vu
Ten things you can do right away. Advice from Dylan C. Robertson
On student papers, digital footprints, and the art of networking. Advice from Sarah Millar
Focus on your own journey. Advice from Evan Duggan
Constantly update your skills, and never stop writing. Advice from Nick Taylor-Vaisey
Cross-platform 'clippings' are key! Advice from Erin Millar
Take every opportunity (even those that aren't paid!) Advice from Devon Wong
Be relentless and build yourself a name and a niche. Advice from Amanda Ash
Pay close attention to your world. Advice from Chloé Fedio
Don't wait until you've graduated. Advice from Jesse McLean
See if you enjoy writing for an audience. Advice from Beth Hong
Be part of the student press, and get on twitter. Advice from Stuart Thompson
Just do it. Advice from Rebecca Lindell
Get outside the classroom. Advice from Adrian Morrow
Learn by doing and learn to pitch. Advice from Kate Allen
Be flexible. Advice from Allison Cross