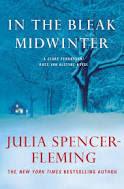 My writing class has been sharing lists of books they recommend and I am humbled. I've read some of them, heard of others, and am clueless regards many. And there are some that I dipped into and abandoned--like Cloud Atlas.
I should be challenging myself with some of these aspirational choices. Alas, now in Covid times, I'm increasingly turning to comfort reading or re-reading. I picked up Julia Spencer-Fleming's In the Bleak Midwinter as one of those re-read's. I remembered enjoying the book with the complicated relationship between the female Episcopal priest and the very (almost) happily marries Chief of Police of the small upstate New York town.  Sounds like a cozy but this series is a good bit grittier than that. Instead of teashops, knitting, or crafts of some kind, there's a good bit about social problems--PTSD, meth, homophobia, addiction . . .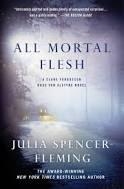 I knew I'd read others is the series--some were on my shelves-- and I even blogged about one HERE--but not all and it seemed a good moment to dive into another time and place. Immersion reading, as it were. Plunging into this other world, I raced through all nine books in record time and was bereft to find that the ninth was published earlier this year--leaving no hope of a tenth any time soon.
Spencer-Fleming is a master at complicated plots and (dammit) cliff-hanger endings. She is also skilled at making the reader care about the all too human characters in the small town of Miller's Kill. Just when you think one problematic relationship is sorted out, BANG! life, criminal enterprise, and human frailty intervene.Arrgh! I am well and truly repaid for ending In a Dark Season with a cliff hanger. Waiting for book ten  . . .