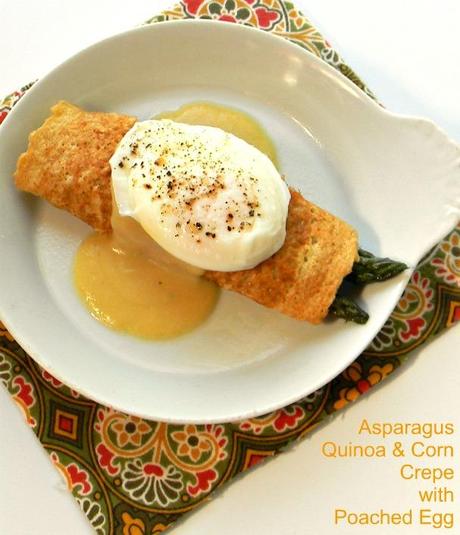 The Magic Pan. Ever hear of it? A restaurant dedicated to every dish using the humble, yet versatile crepe. The floor show was a large turntable of upside down pans that a cook would dip into the batter, place it back in the spot where taken (over a circular burner) and as it rotated, removed the next pan in line, flipped it over a platter, the crepe dropped off, they re-dipped the bottom in batter again and repeat this all night long. I certainly would not want that job. It would sort of be akin to this skit that put I Love Lucy on the #1 hit TV show list. Unfortunately it did nothing for the popularity of the restaurant and they closed a few years later.
What was wonderful about all that, besides the side show, was the fillings they offered. My love all things crepe never left me but am sorry to say the restaurant did so I made this salad in homage. 
Resolution this year of adding more grains and seeds to my diet have me constantly on the alert for recipes that while I know I would love to eat, would also appeal to my better half.
I decided to make quinoa crepes. Now I could have used quinoa flour but my first try went for texture with the flakes. Not sure that was a good idea, I know they had a nutty smell while frying in the pan and were pliable enough to wrap around a filling, but they were too thick to be called a crepe. Not one to throw them out, I will mess with them later in the week when The Nudge travels back to Boston.
For today I made a new batch using a mixture of AP, corn and quinoa flours (for texture & great flavor), real eggs and fat-free evaporated milk. They acted like traditional crepes but tasted way better and were loaded with all the good things that corn and quinoa give to the party. A win-win for everyone. Tag a filling of healthy spinach or in this case roasted asparagus, top with a poached egg (optional), a hollandaise or mustard sauce and you have the first of many wonderful Easter Brunch dishes.
Let's face it, anyone can roast asparagus and be like all the rest, but only a few will make something truly decadent but entirely healthy.
If you do not feel comfortable with poaching your egg, you can fry them and top each crepe with that instead.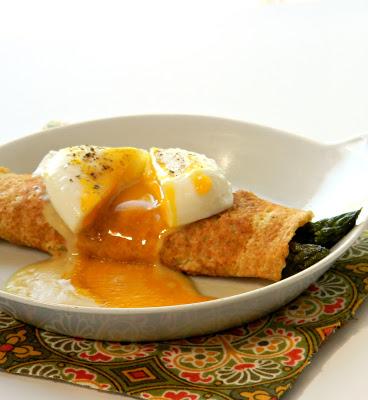 Quinoa & Corn Crepes
makes 6-8 crepes
* 1 cup quinoa flour* 1/2 cup corn flour* 1/2 cup whole pastry flour
* 1/2 milk + extra for thinning* 1/4 teaspoon sea salt* 3 large eggs* 2 tablespoons olive oil
* Spray oil
* Asparagus or Spinach filling
* Poached Eggs
* Hollandaise or Mustard Sauce (optional)
1. Mix all ingredients in a blender or mixer until smooth. Set aside for 30 minutes.
2. Roast the vegetables for the filling.
2. Add extra liquid if needed to make the batter the consistency of heavy cream.
3. Heat a non-stick 6" pan and spray with oil.
4. Pour 1/2 cup of batter into pan and swirl to cover the bottom of the pan. Cook until the edges start o curl and flip over for one minute. Remove crepe to dish and top with a piece of wax paper.
5. Repeat until all the batter is done.
6. Fill with vegetable, roll and place seam side down in a prepared baking pan.
7. Bake for 10 minutes at 350° and bring a pan of water to boil for the eggs (or fry them)
8. Top each crepe with a tablespoon of sauce (could use grated cheddar also) and then an egg.
Excellent tutorial on "how to poach an egg".