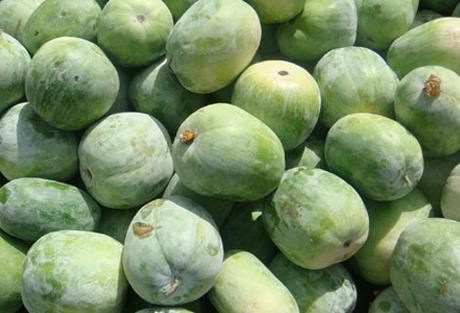 Ash gourd's low calorie, low carb, high water, and high fiber contents provide a nutrient combination that may promote digestive health and help you maintain a healthy weight.
Ash gourd comprises 96% water and is very low in calories, fat, protein, and carbs. Yet, it remains rich in fiber and provides small amounts of various nutrients.
Benefits
May improve the sharpness of mind.
May enhance energy.
May reduce constipation, piles, boils.
May improve digestion.
May prevent ulcers.
May reduce inflammation.
May offer some protection against type 2 diabetes.
May have antimicrobial effects.
May accelerate weight loss.
May detoxify the kidneys.
May strengthen the respiratory process.
May complement the ketogenic diet.
Other Names
Ash gourd is also known by a variety of common and regional names:
White gourd
Winter Melon
Wax gourd (denotes one sub-type of ash gourd)
Kushmanda, brihatphala, ghrinavasa, gramyakarkati, karkaru (Sanskrit)
Petha, pethakaddu (Hindi)
Torobot (Manipuri)
Kohla (Marathi)
Neer poosanikai (Tamil)
Kumbalanga (Malayalam)
Boodida Gummadikaaya (Telugu)
Budekumbalakayi, boodu gumbala (Kannada)
Kumra, chalkumra (Bengali)
Komora (Assamese)
Ash gourd naturally grows in the wilderness in South-East Asian countries such as India, Sri Lanka, China, Nepal, and Indonesia, as well as in the warmer southern regions in Australia.
Ash gourd juice recipe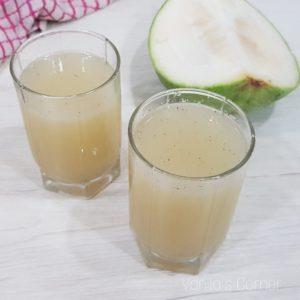 Ingredients
Ash gourd, 4-5 inch sized - 1
Lemon juice - 6 tsp
Black pepper powder - 3 tsp
Salt - 3 tsp
Method
Cut ash gourd, remove skin and seeds.
Blend to a smooth puree.
Strain.
Add lemon juice, black pepper powder, and salt.
Applying Ash gourd gel on your hair for 30 minutes before bath. Simply after removing the peel & seeds, blend it into an even paste in a mixer without adding water, to obtain a slightly viscous gel. Ash gourd has potent chemicals that can reduce the intensity of flakiness and dandruff on the scalp of hair. It can also shelter the roots of the hair strands, known as follicles, from the dirt and fungus particles that trigger dandruff. Ash gourd gel, when applied routinely to the itchy and peeling scalp and dry hair, can significantly revamp the appearance of dull hair, giving it an incredible sheen.
Ash gourd possesses many vital trace minerals. Hence, excessive consumption is harmful, as it may result in toxic levels of these metallic elements accumulating in the system.