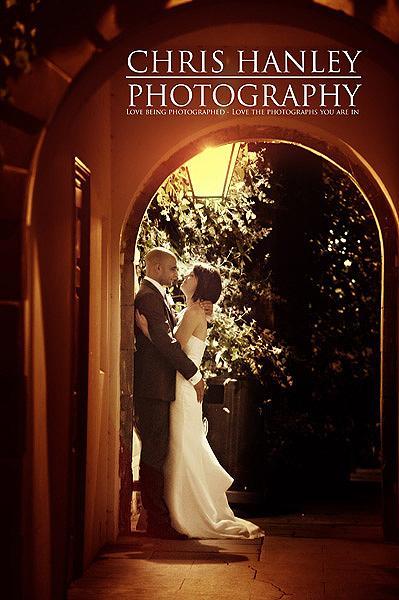 I love the romance of this wonderful wedding photo - Geoff and Steph in the warm glow of a lamp outside Trinity College
Yesterday we enjoyed Al and Georgie's Buckinghamshire wedding, photographed by Geoff Reardon. Within weeks of shooting their day, Geoff took his turn at the altar with his gorgeous bride Steph.
So when a great wedding photographer gets married, who do he and his bride choose to be their photographer? Is there a clamour, a race to get in there first? In these circles I think there's probably more of a hushed and excited anticipation to find out who gets the job! But I think for Geoff and Steph there was only one choice: top UK wedding photographer Chris Hanley.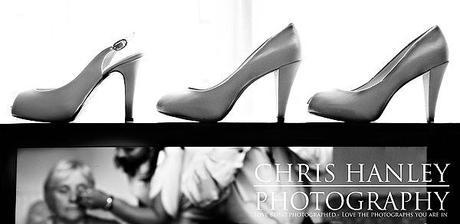 Bridal shoes with bags of class and sexy heels
Cue the usual gorgeous photographs from one of English Wedding's recommended photographers. Enjoy this beautiful wedding day with the perfect combination of uber-Englishness – in the heart of Cambridge. Steph is Beautiful (capital B for extra emphasis!) and Geoff is sooo cool. Love that cheeky smile!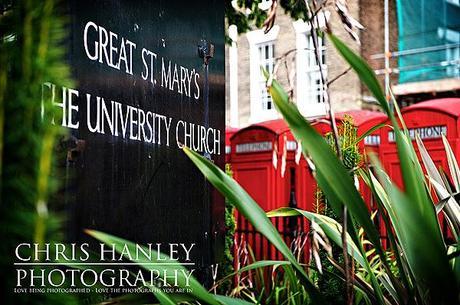 Geoff and Steph were married at Great St Mary's Church
The details in the photography set the scene wonderfully – the bicycles and phone boxes simply yell English wedding and Cambridge; the tourists watching, the kiddies playing croquet on the lawn, the jaunt on the river… this is quintessentially English in a stylish, contemporary and glamorous way – I love it and I hope you do too!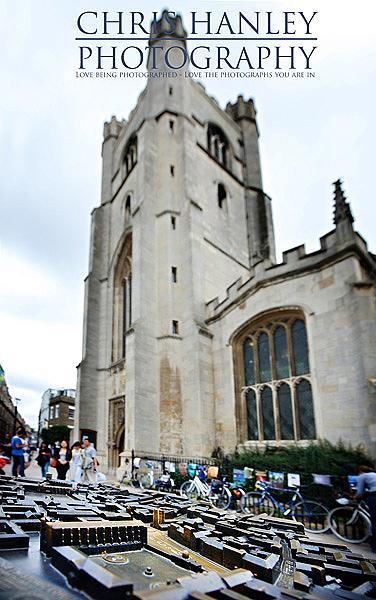 Great St Mary's Church, Cambridge - from a great angle, looking awe inspiring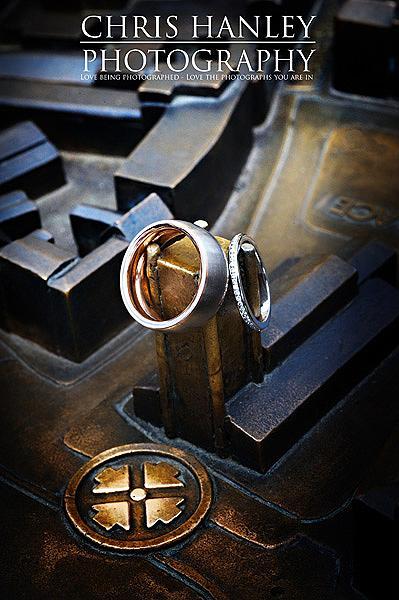 The wedding rings on a scale model of Cambridge (I think!) outside Great St Mary's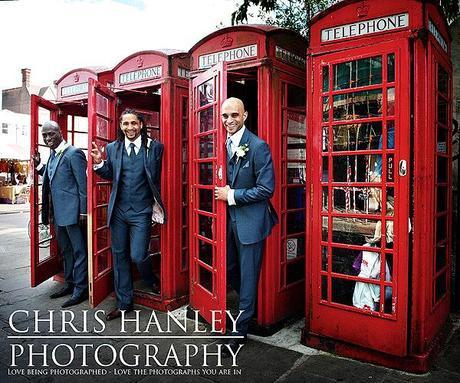 A conveniently classic row of phone boxes just around the corner from the church make for a great location shoot!!
Beautiful imagery of the wedding flowers: sleek and stylish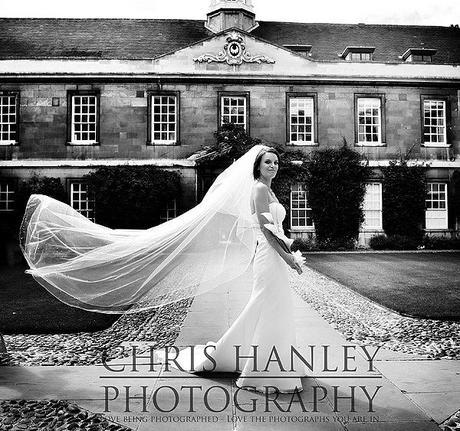 Steph looks incredible - in a figure hugging wedding dress that is just perfect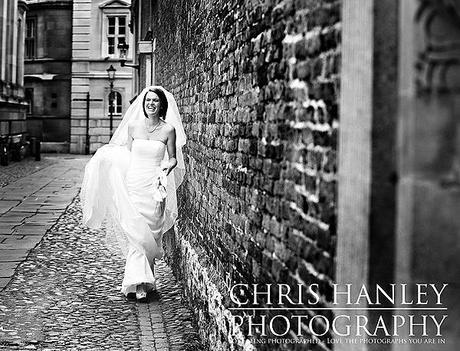 A fantastic photograph, lovely perspective... and one way to avoid the cobbles in those gorgeous killer heels?!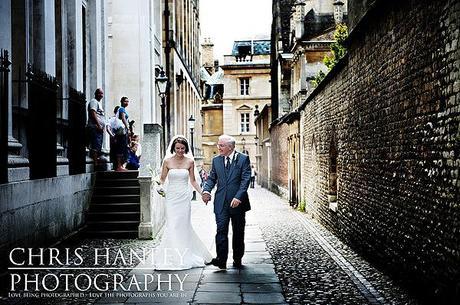 Steph and her dad on the way to the wedding and enjoying the attention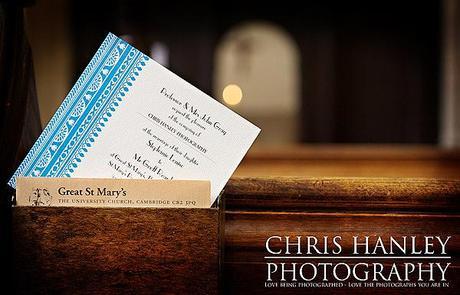 The wedding invitation!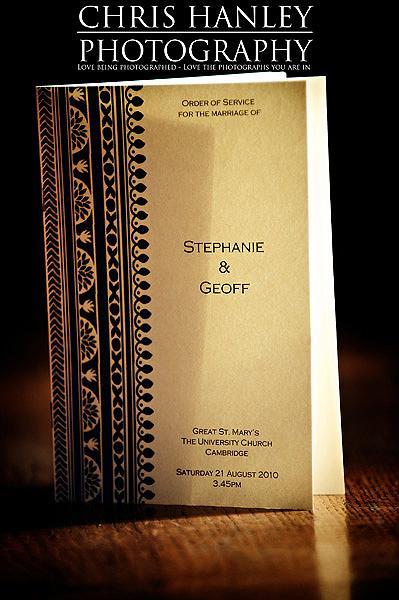 I love the sophisticated printed Orders of Service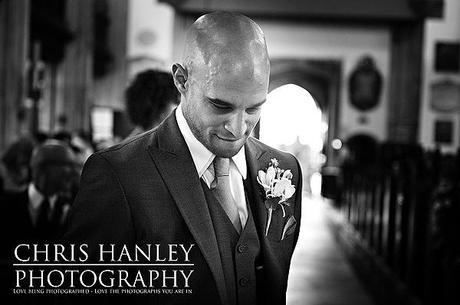 One of those very special moments: Geoff bites his lip as all eyes turn to the door of the church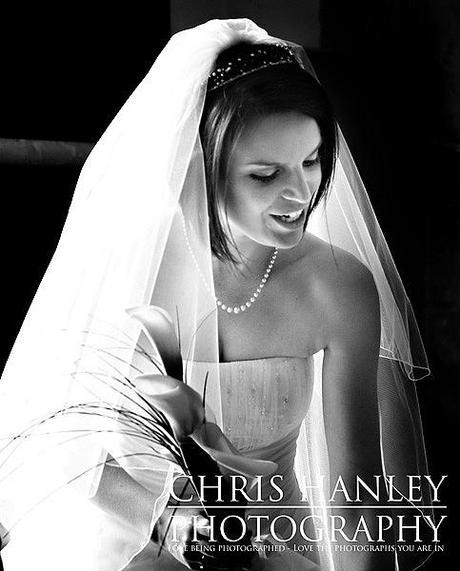 Beautiful Steph bathed in sunlight
I love the way Steph looks on her wedding day: the slim fitted wedding dress with minimal but elegant detailing, her straight calla lily bouquet, the single line of pearls and delicate tiara. In this image the sunlight on her veil is so beautiful I'm lost for words.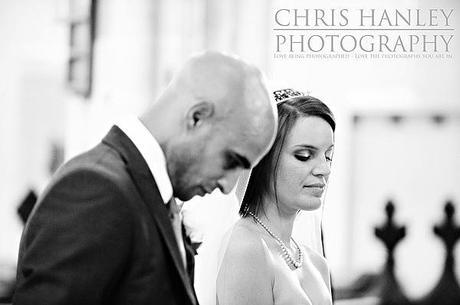 The marriage service - a serious moment for Geoff and Steph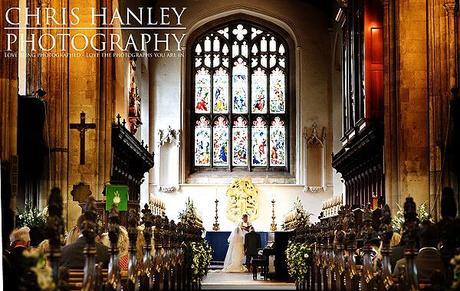 The inspiring grandeur of Great St Mary's church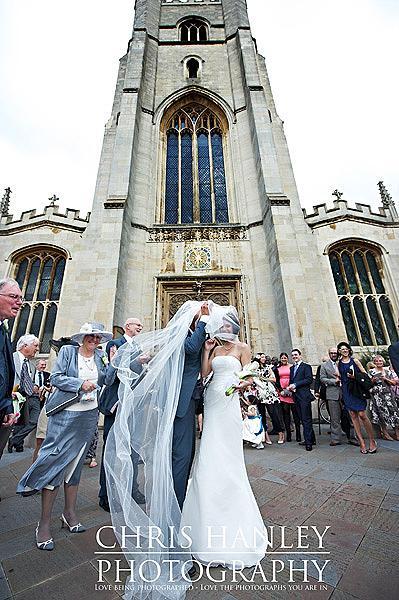 Geoff in his cathedral length veil...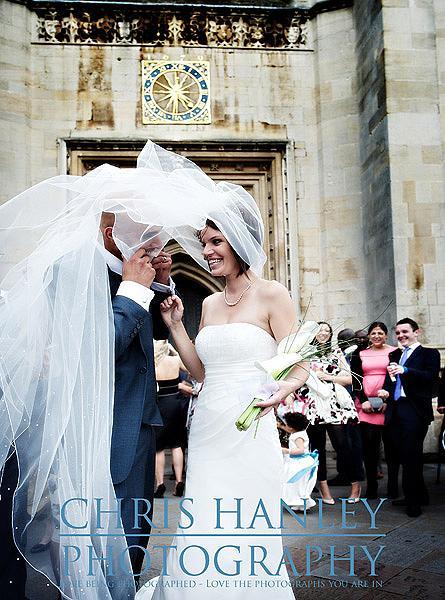 don't look now but I think he's chewing it - I love Steph's smile in this shot though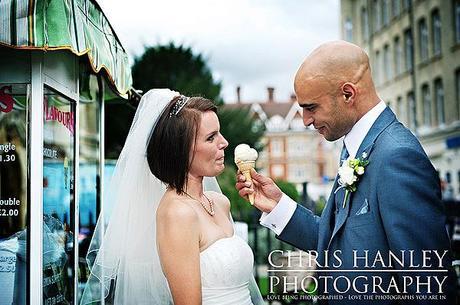 A vintage style ice cream van in Cambridge and a shared cone for this gorgeous couple.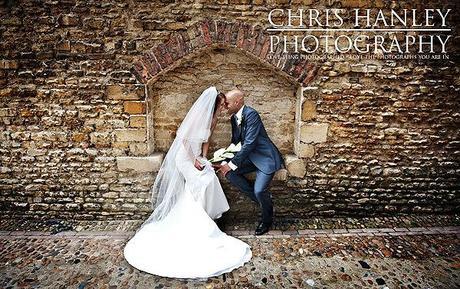 A beautiful portrait of Geoff and Steph on the cobbled streets of Cambridge - there's a real sense of history here, and I wonder how many generations of newlyweds have kissed here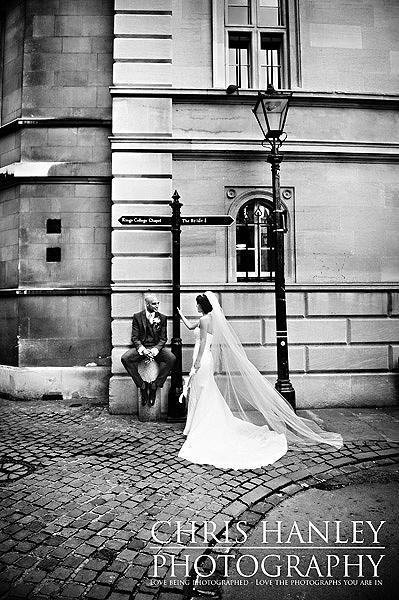 Steph simply oozes confidence and beauty: I love everything about this photograph.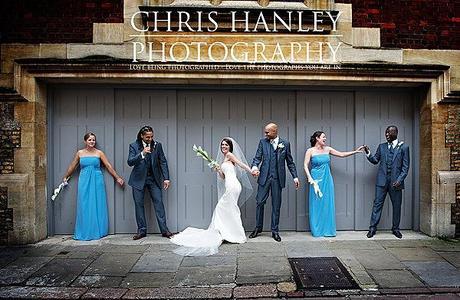 As with every Chris Hanley Photography shoot, there's a fantastic fun group shot - and Steph steals the show!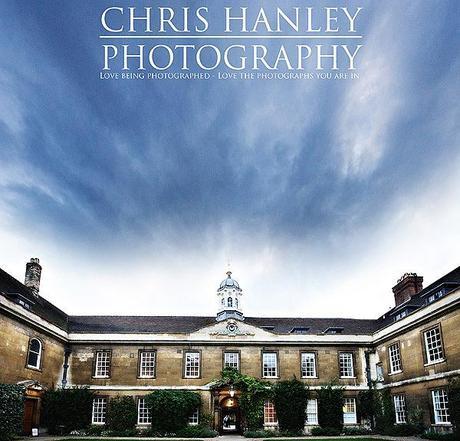 Trinity College Cambridge: breathtaking.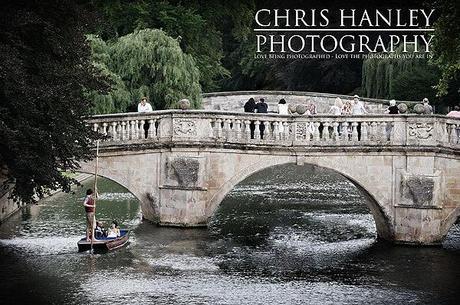 Messing about on the river! Another very very English wedding image - but with a sense of fun and more of that Cambridge ambiance.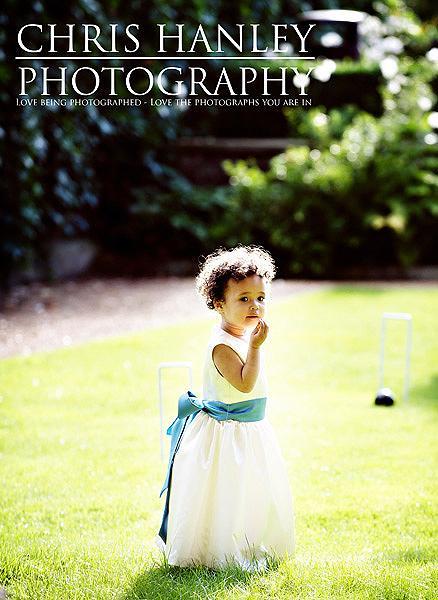 Geoff and Steph's kids are adorable. They settle down for a game of croquet on the lawn.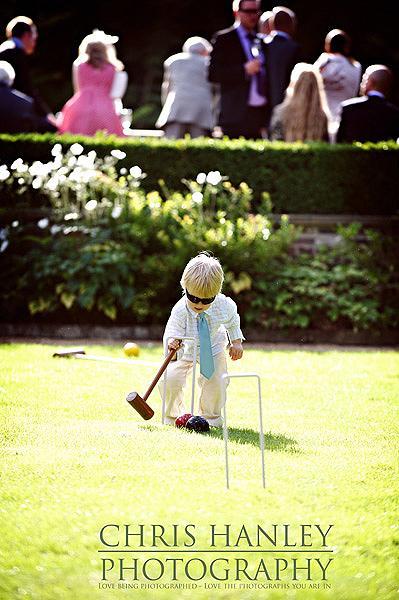 Those are definitely croquet champion's sunglasses. How cool, and how cute?!!!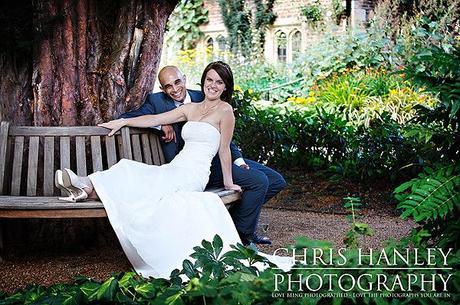 Steph and Geoff - a perfect match.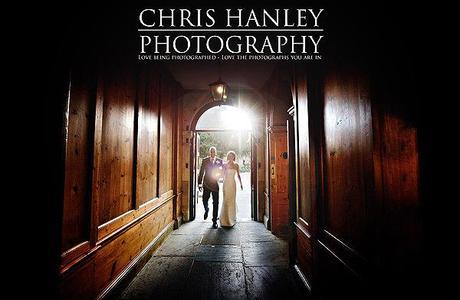 This is soooo fabulous: sunlight floods through the entranceway to the historic Cambridge college building with Geoff and Steph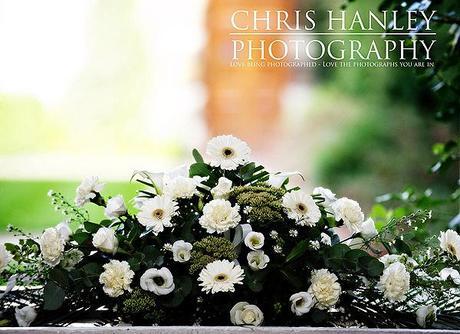 The top table wedding flowers: pure white roses, gerbera daisies, carnations and rich, dark green foliage.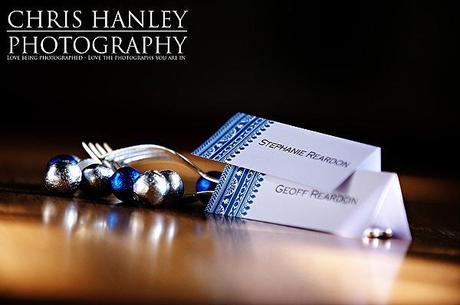 Pretty little details with a blue and white wedding theme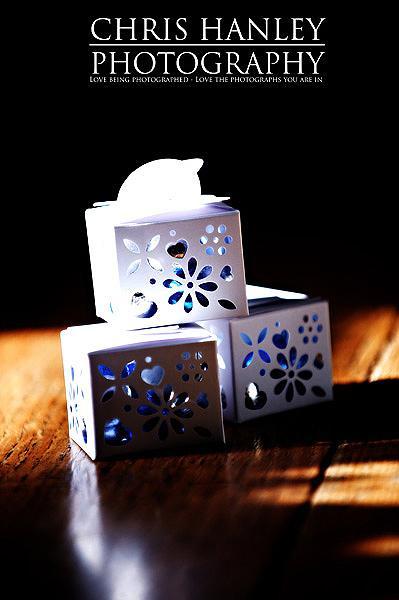 Lovely die cut wedding favour boxes with blue sweeties inside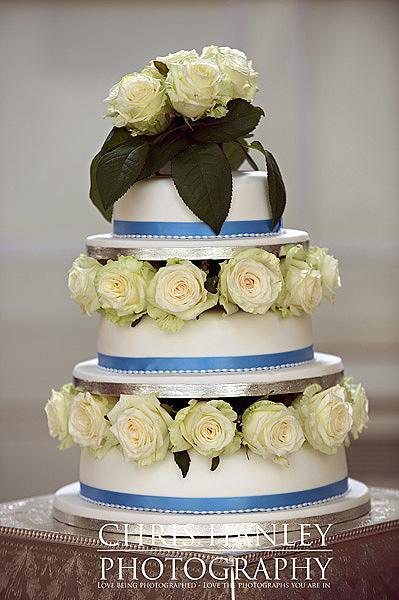 Wedding cake - simply lovely in blue and white with palest cream roses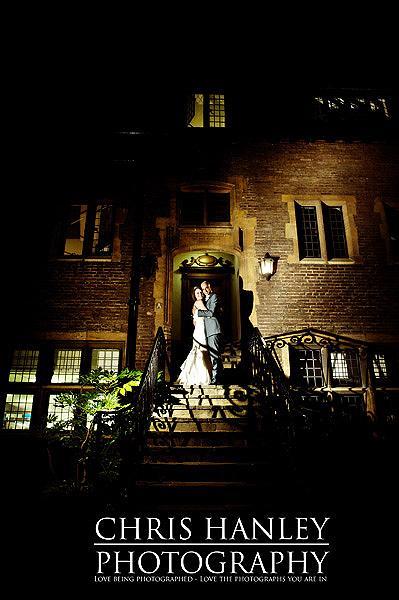 Chris Hanley always creates exceptional images with lighting at night time. I love this picture of Steph and Geoff on the steps of their wedding venue after dark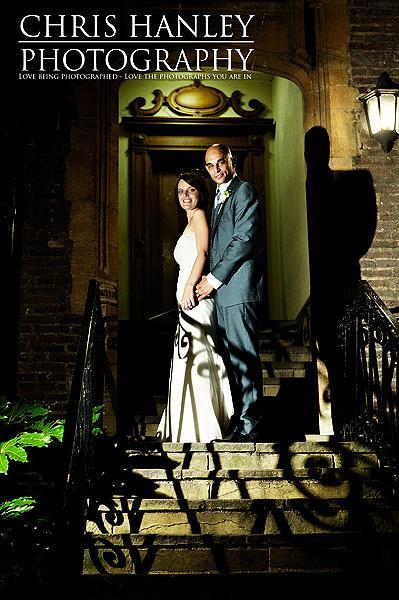 Steph and Geoff: a perfect fit. I love all the swirly shadows and detail in this photograph. And they're such a good looking couple aren't they?!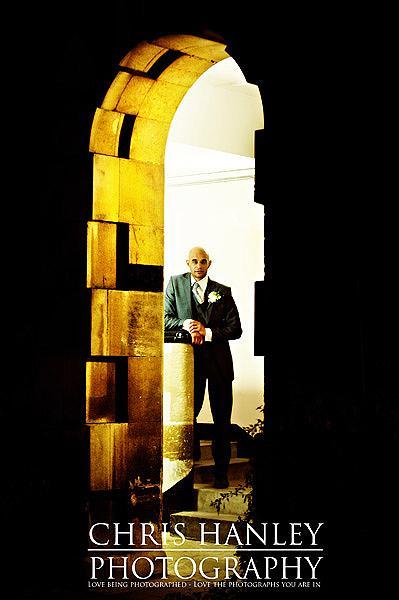 Geoff framed by an archway at Trinity College - love this.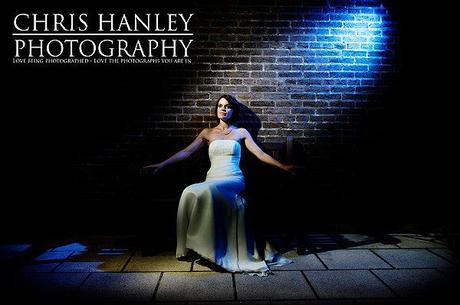 Steph in the spotlight. How beautiful is she, how lovely is the blue glow of the lighting... rhetorical question. Wow.
Thank you Geoff, Steph – it's an honour to have you both on the English Wedding blog.
Thank you Chris for submitting your beautiful photography once again. Words fail me every time but I think I've done justice to your talent with this feature. I hope so!
Thank you brides- and grooms-to-be for reading this blog feature. Has it inspired you? Please share your comments or visit www.ChrisHanleyPhotography.com to see more from one of the UK's top wedding photographers.