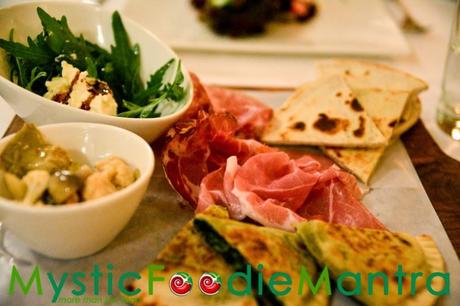 Piadina e Crescione
There are some food outings which makes you say heaps of praises about the food, some which gives you that perfect ambience to enjoy the cuisine, some that offer that extra touch by providing you efficient service and some that just lets you be you! But there are very few Restaurants that give you a "complete experience" which leaves you spellbound and one such experience we discovered lately was at "Artusi Ristorente e Bar".
Located in the M-Block Market of GK-2, this restaurant gives you a warm welcome right when you enter with the bright lights and the Italian style bar. A small room that can accommodate around 20-22 people, this is a perfect setting to catch up with your friends for a drink or if you just want to have a coffee and a snack! The café bar is open from 8 am to 4 pm and then it transforms into a cocktail bar till 1 am. They also plan to start champagne cocktails and finger food from 4 pm to 7 pm soon.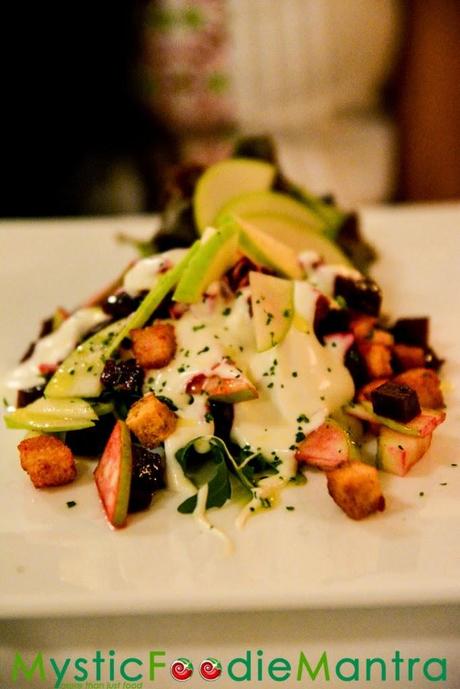 Repe-e-Noci
Next you enter inside the dining area, and we literally loved the idea of keeping it simplistic. It was as if we are invited to an Italian home living room for lunch. The 44 seater may seem a little cramped up when fully occupied, but that's what they would like to keep it as! The seating style, kept simplistic, has table covers brought right from their hometown where women handpaint them. The walls adorned with some unusual paintings by Delhi artist Fiaz Khan and his guru Yusuf surely catch you attention. The small area towards the entrance which looked like an open kitchen was my personal favorite corner. As soon as we were seated, we were offered the famous Italian sparkling wine "Ti Amo" (which means My Love, as told by the General Manager Aman Choudhary who has himself lived in Italy for quite some time and has immense knowledge about Italian cuisine ).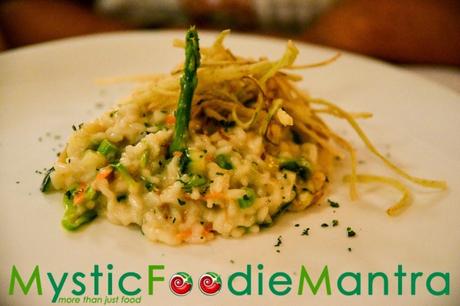 The menu is vast and a lot of the dishes mentioned would require us to use "Google search". But the staff is efficient enough to guide you through the same and give suggestions according to your taste buds. We decided to go by the Chef's recommendation and first on our table came the salads. For those who think vegetarian salad is just about green leaves, cucumber and tomatoes must taste the Repe-e-Noci. It has roasted beet, water cress, green apple, walnuts, goat-cheese, and croutons topped with balsamic vinegar. Fresh, crispy, light and full of flavor in each bite, this was one of the best Salads I tasted. Maneesh wanted to try the cold cuts and had the Piadina e Crescione. The platter had cured meat including salame, mortadella, fine cheese and Prosciutto di Parma that has been aged for 24 months. All this was served with homemade Piadina and Crescione. Piadina and Crescione are basically breads with flour, olive oil and salt – One plain and the other stuffed with spinach. The whole combination tasted divine and I could see Maneesh relishing every portion that went in his mouth.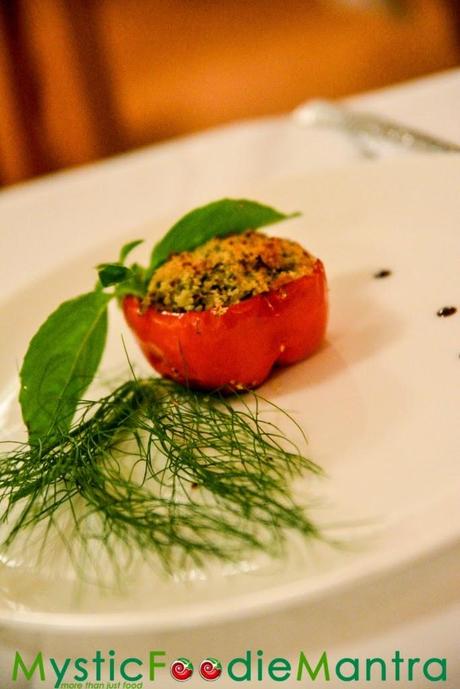 Next we tasted the pasta. Since we wanted to taste different dishes, we asked for small portions. In vegetarian, I was served Capelletto and Tortelli. Capelletto caught my interest as I saw "Hat-shaped pasta" for the first time. The shape handmade by Chef, this pasta is stuffed with Ricotta and Regiano cheese and sautéed in tomato and basil sauce. I totally loved it for the uniqueness. But what satisfied my taste buds was the Tortelli. It had pasta stuffed with a mix of pumpkins and potatoes served with cheesy sauce. This dish, which I got to know later on, is Chef's personal favorite too, was so creamy and smooth that I finished the whole serving given.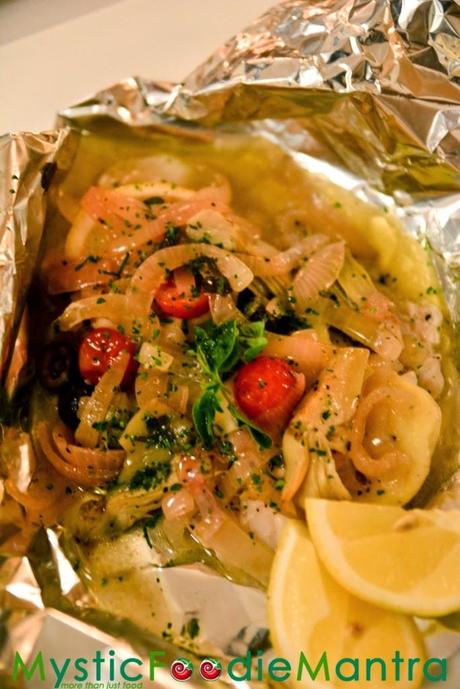 Maneesh savoured on the Tagliolino Gamberi e Limone which were thin homemade noodles served with prawns, lemon, herbs and butter sauce. Cooked in a simple way with no added spice or cheese but just the flavours of the herbs this one had Maneesh singing praises for the Chef. We took a break before the main course and had the opportunity to meet the Owner Gurpinder Balcon's husband Oscar. He took us around and showed the paintings mounted on the wall, gave us a little history of how they started the restaurant and gladly showed us the famous book written by the founder of Italian cuisine on whose name the restaurant is named " The Art of Eating Well". We also had the chance of meeting the talented Chef Romina Lugaresi. Enthusiastic and focused about promoting the cuisine of her native land Emilia-Romagna, Romina tastes every dish that goes out of the kitchen to maintain the authenticity.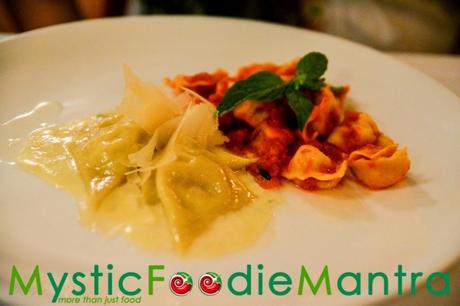 After hearing all the exiciting stories of the owner, Chef and the General Manager, we were ready to try the main course. Maneesh asked for fish and there came the terrific looking Branzino Cartoccio served in aluminum foil. Oven baked fish fillets served with artichokes, tomatoes, potatoes and olives, this was the "Dish of the Day" for Maneesh. Soft, aromatic and appetizing, he still had an after-taste on his tongue. I wanted to try the Risotto and I was truly impressed with the vegetarian variety. Served with the highest quality of rice which is called Carnanoli, and cooked with seasonal vegatables and Grana padana cheese, I would surely go to length and say, this was the best risotto I ever tasted till date. I was also informed beforehand that the rice would be a little undercooked ( as they call it Al-Dente ) and that I was okay with it. The rice is normally cooked between 18-22 degrees temperature, so it doesn't get over cooked.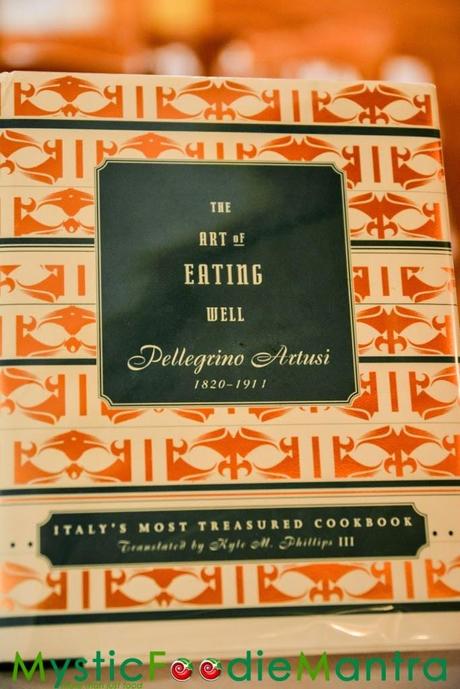 Having not introduced any fusion dish, they have a nice Pesto sauce to go along for the Indians who eat a little spicy. Pesto Pecante is a sauce made with chillies and olive oil, and yes it is HOT and Spicy. But worth a try! I also tried a single portion of Verdure Ripiene where bell pepper was stuffed with steamed rice, mozzarella cheese, parmesan cheese, mushroom, leeks, bread crumbs and herbs. It was artfully presented and tasted crumbly.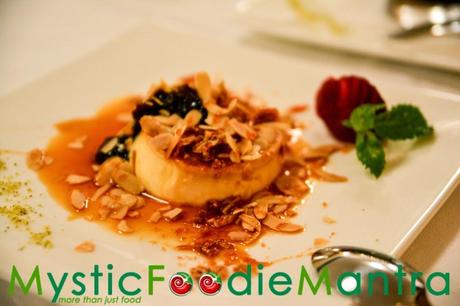 Then came the desserts and Mr. Oscar was happy with our order as he wanted us to taste two different flavours altogether and that's exactly what we ordered. The ever famous Panna cotta served with caramelized figs and topped with almonds is truly the signature dish of the restaurant. The Crema Pistachio e Caffe which has Pitachio custard cream topped on Coffee gelatine was so smooth that it just melts in your mouth. This one tasted great with the pistachio crackers and butter cookies served. We ended the meal with a classic Italian espresso with cinnamon biscottis.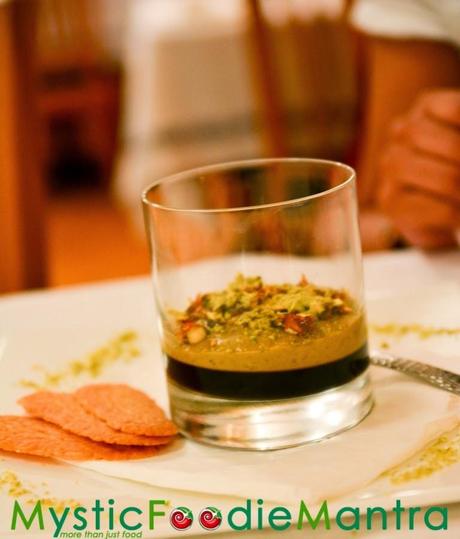 The whole experience literally gave a feeling of having the meal in some Italian homestay and brought the essence of Italian culture promoting life and family. Authentic, personalised, and rustic, you would surely come out feeling full not only on stomach but on your soul too… A truly soulful experience! We give it a 4.5/5
Meal for two : INR 3500-4000 ( approx )Address : M-24, M Block Market, Greater Kailash 2, New DelhiPh no : 011- 49066666