Bayern Munich, the powerhouse of world football last season is set to break yet another record by winning two champions league trophies in a row, but as with last season, Arsenal stand in their way in the first round of knockouts.
With the addition of Mesut Özil, Arsenal has been able to change their image from record losers, to premiership contenders. Özil's impact has gone further than providing goals and assists, his presence has simply increased the confidence of his teammates, allowing players such as Aaron Ramsey to emerge and show their potential. Arsenal currently sit second in the Premier League, one point behind league leaders Chelsea and 2 points ahead of Manchester City. Arsenal have done an excellent job against the EPL's worst teams, almost always coming away with wins, but they still lack the ability to pull away against the league's better teams, losing to teams such as Chelsea, City and Liverpool in recent months. Although most people wouldn't consider them serious contenders for anything this year, they have definitely shown that they can play and score, but have also looked exposed against the better sides. That being said, in the Champions League, anything can happen.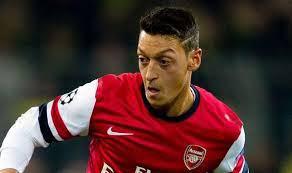 Arsenal will need a massive performance from Mesut Ozil if they want to have any hope of progressing to the quarter-final
There's not much to say about Bayern this season other than they've been playing excellent. Pep Guardiola's impact has shown in the last few weeks as Bayern continue to dominate with possession. Players like Thiago and Mario Götze have shown their offensive competence, proving to be instrumental roles in Bayern's success. Irreplaceable talents like Franck Ribery and Arjen Robben provide constant threats on the wings when paired with defenders David Alaba and Rafina, respectively; while Philip Lahm, Bastian Schweinsteiger and Toni Kroos have proven to be key in terms of passing and defending for Bayern this season.
The way the game will play out this season will not be too different from last season. Yes, Arsenal have improved, but so have Bayern; enormously. Arsenal pose a more constant offensive threat against Bayern's weakened defence with Özil, but without an adequate striker to capitalize on their opportunities, even Dante and Jerome Boateng will be able to contain a great deal of what Arsenal throws at them. Arsenal have proven to be lost whenever playing a team with higher possession than them, and when playing a Guardiola Squad, it's safe to say that they'll have less than 40% possession. As Bayern continually perfect Guardiola's vision of them playing a Barcelona-esque style of play, it's safe to say Bayern will score.
Prediction: Arsenal: Bayern 1:3
Bayern will dominate with  possession, especially in the first 20 minutes, where they'll likely score a goal or two. This pressing will continue until Arsenal comes to grips with the fact that they'll be chasing the ball for most of the game. Arsenal will have a fair amount of chances against the offensively driven Bayern and are likely to capitalize on one of them, but Bayern will have more chances, and with their successful conversion rate are likely to leave London with a few away goals.