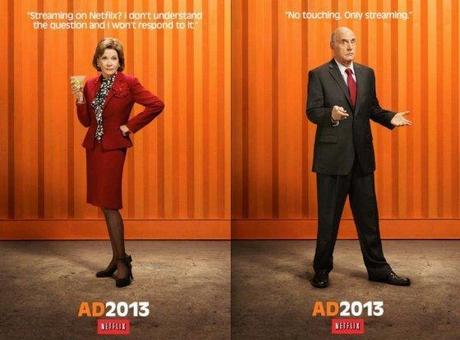 -As much as I love and adore Arrested Development, I've been a bit nervous about the prospect of a new season. I mean, it's been seven years. Would they be able to recapture the magic? But this new outtake featuring Lucille and Buster has done a lot to restore my faith. The new character posters are also pretty damn glorious.
-Gwyneth Paltrow jumped on the side-butt bandwagon and wore a sheer paneled Antonio Berardi gown that was both daring and terrible at last night's Iron Man 3 premiere. I think the Fug Girls said it best: "It's not even expensive-looking or flattering sheerness. It's like someone slaughtered several pairs of L'Eggs."
-Speaking of Iron Man 3, expect it to be a monster at the box office. It doesn't open for another week, and already it's making up 25% of all movie tickets being sold right now. More than 400 screenings have already sold out.
-Steve Martin was pretty adorable on Letterman this week, talking about being a new dad.
-Speaking of late night TV, Tom Cruise should do all future interviews with Emily Blunt by his side. They're pretty great together.
-Here's Beyonce's new short film for H&M, directed by Jonas Åkerlund. Yawn.
-Jimmy Kimmel chugged five drinks during his Time 100 speech and the results were marvellous.
-Jennifer Love Hewitt may be brought on as a judge on The X-Factor? Who wants that?
-It looks like Gossip Girl's Ed Westwick and Jessica Szhor are back together. (Also, I love that he dresses even douchier than his GG character IRL.)
-The guest star list for The Office finale has been released. Steve Carell's name is not on it, but there's no way he's not coming back.
-Edward Norton is being investigated for harassment after a heated run-in with a pap.
-Vampire Diaries star Daniel Gillies is having a good week. Not only is tonight's episode serving as a backdoor spinoff for his character, but Showtime just bought two films he wrote and stars in. (Fun fact: did you know he's married to Rachel Leigh Cook?)
-In this video, New Girl's Jake Johnson previews a big Nick and Jess moment in next week's episode.
-In case you were wondering, Rihanna and Ciara still appear to hate each other.
-Grimes wants you to stop referring to her as a waif, ok?
-If this royalty thing doesn't work out, Prince Harry could have a promising career as a news anchor.
-Just in case you didn't find her annoying enough, Jessica Alba says she wore a double corset day and night to lose her baby weight.
-The backlash against Zach Braff's Kickstarter hasn't stopped him from nearly reaching his $2 million goal in just two days.
-The guy who played Bunk on The Wire tried to make a prequel about the show starring Samuel L. Jackson.
-Justin Bieber's unlucky streak continues. Drugs and a stun gun were found in his empty tour bus by Swedish police. Also, he's getting flack for reportedly showing up to a photo shoot six hours late and refusing to change.
-Justin Timberlake got all gushy about his marriage on Ellen.
-You may not have heard of comedian Nathan Fielder, but that's probably going to change this week. He just asked his Twitter followers to pull a drug dealing prank on their parents, and the results are hilarious.
-The new trailer for Monsters University is pretty cute.