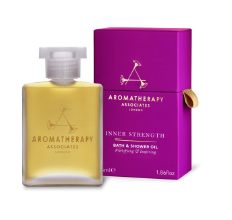 I got an email recently about a new Aromatherapy Associates oil that will be released next week and I just had to share.
It is a Bath and Shower oil called Inner Strength that is a personal blend created by Geraldine Howard who is the president and Co-Founder of Aromatherapy Assoociates. Geraldine hasn't been very well over the past few months and wanted to create a specific oil blend to support people when they are going through times of trauma.
The oil includes clary sage and frankincense which helps focus the mind and calm the thoughts. Cardamom and rosemary to help fortify physical strength. Rose and vetivert to calm and heal and geranium to balance stimulate circulation.
I don't usually post about press releases but this caught my attention plus 10% of the proceeds will be given to the ATK Foundation which is helping pioneer new cancer treatment, of which Geraldine is currently a patient.
The Inner Strength Bath & Shower Oil launches on the 25th of February and will be £39 for 55ml. I will definitely be picking this up on payday.